Together, the Ravenswood Community Council, Greater Ravenswood Chamber of Commerce, and SSA #31 have brought a variety of permanent and temporary works of public art to to our neighborhood. Projects funded, organized, or supported by our organizations include murals, sculptures, textile installations, community landmarks, mosaics, and other creative works.
Ravenswood Sculpture Garden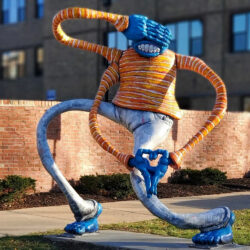 Established in 2021 by the Ravenswood Community Council, Greater Ravenswood Chamber of Commerce, and Special Service Area #31, the Ravenswood Sculpture Garden celebrates our community's rich history of arts and industry.
Chicago's newest public art destination is now home to more than ten sculptures, including a few "guerilla" contributions. This magical attraction pays homage to Ravenswood's creative spirit, delights its residents, and draws visitors to local small businesses. All of the sculptures are located along Ravenswood Ave, between Lawrence Ave and Irving Park Rd. Click here to learn more and plan your visit.
Aside from the Ravenswood Sculpture Garden, SSA#31 encourages the creation of and care for public mural in our community. SSA-sponsored murals currently on display in Ravenswood include: A Squirrel Named Penelope by John Airo; Community by Jamie Lynn Porto, For My Neighbors, With Love by Adrianne Hawthorne; Never More by Yolanda Pilch; and We All Live Here by Rich Alapack.
On View: Public Art in Ravenswood
While not comprehensive, this is as thorough a list of public art in Ravenswood as you'll find. If you have information about a piece not listed here, please contact gene@ravenswoodchicago.org. Note: not all of the below works were funded by SSA#31. This is a representation of the public art collection in the greater Ravenswood community.
Public Artwork Locations in Ravenswood
Request for Proposals: Artist + Property Owner Opportunities
The Greater Ravenswood Chamber of Commerce and Ravenswood Community Council are dedicated to supporting local artists and increasing opportunities for artists in our community. If you're considering a public art project in our neighborhood, we're here to help! Contact GRCC Associate Director Gene Wagendorf III to talk about your project.
If you're a property owner interested in installing art or murals on a blank wall, please complete our interest form for property owners here.
Get Ravenswood News and Updates in your Inbox
Subscribe to our mailing list here to receive updates on public art projects, construction updates, health and safety alerts, and invites to neighborhood events.