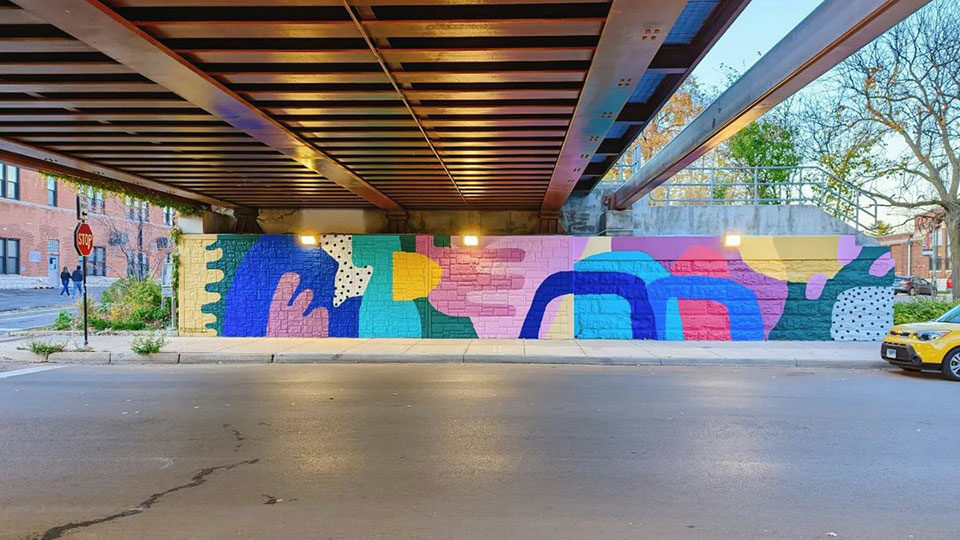 Located in Chicago's 47th Ward, the Ravenswood neighborhood's historic Industrial Corridor is a unique hub of creativity and craftsmanship. It is home to artist studios, trade schools, manufacturers, brewers, and makers of all kinds. The Union Pacific Railroad viaduct at Ravenswood and Berteau avenues serves as a gateway to this community. It's the entrance to festivals like the Ravenswood ArtWalk and is prominently located along the Ravenswood Sculpture Garden. At it's center shines For My Neighbors, With Love, a mural by local artist Ponnopozz (Adrianne Hawthorne).
Part of a broader placemaking initiative, in 2021 the Ravenswood Community Council, 47th Ward Alderman Matt Martin, the Greater Ravenswood Chamber of Commerce, and SSA #31 committed to funding a new mural at this vital intersection. This project presented a rare opportunity to create a signature work of art for one of Chicago's most vibrant neighborhoods.
Art, especially public art, is a powerful thing. I want viewers of my mural to pause as they drive by, to stop walking and go up to the piece for a closer look. The mural I've created for my beloved Ravenswood embodies the wonder, joy, vibrancy, diversity, and strength I see in my fellow small businesses and neighbors.

Adrianne Hawthorne, Artist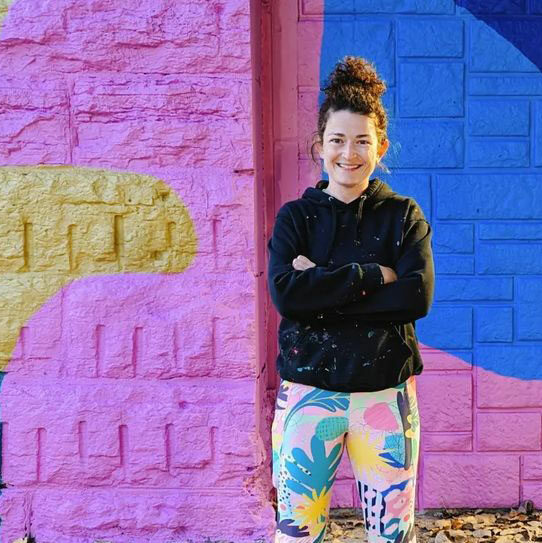 Project Details
In July of 2022, the Ravenswood Community Council, in partnership with Alderman Martin, issued a Request for Qualifications from Chicago muralists. The primary goal of this project was to enhance the connection between local artists and makers, and their residential neighbors. In terms of design, artists were challenged to reflect Ravenswood's creative character. Over 35 artists applied, with 3 selected to develop full-proposals by the project steering committee.
After that, mural concepts by these finalists were put to a community vote where over 2,000 neighbors responded! Once the votes were tallied, Ravenswood-based artist Adrianne Hawthorne emerged as the winner. Work began on October 22, 2022, with nearly a dozen CPS students assisting on installation day. The mural was completed over the following weeks, with a ribbon cutting celebration on November 1, 2022.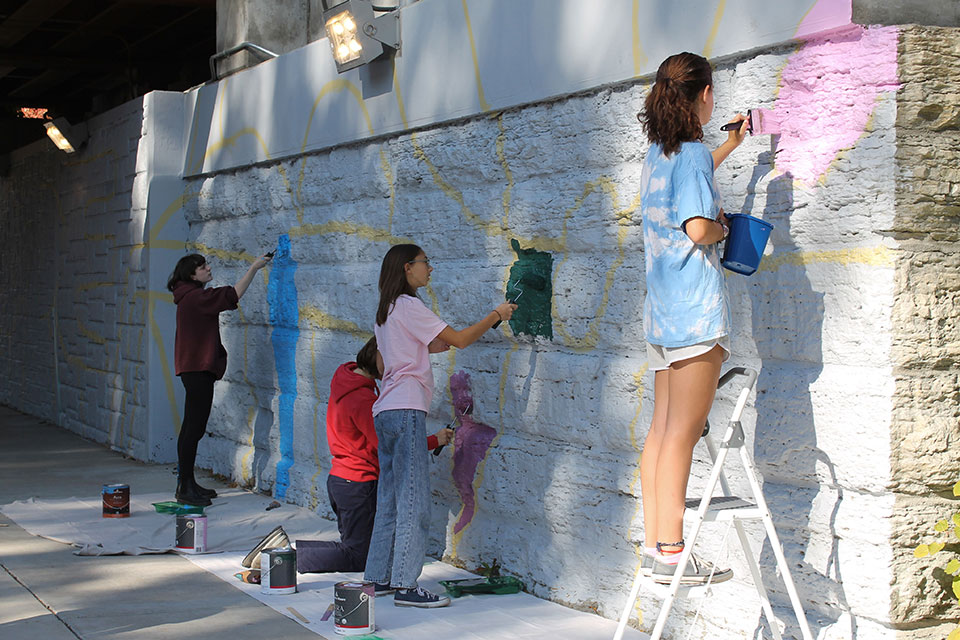 Sponsors: Ravenswood Community Council, 47th Ward Alderman Matt Martin, Greater Ravenswood Chamber of Commerce, Special Service Area #31, Union Pacific Railroad
Team: Adrianne Hawthorne (Lead Artist), Chava Mancera, Dan Schell, Nick Voss, Seth Thomas, Ruslan Petrov, Eddie Cos
Student Artists: Kristopher Azpeitia, Charlotte McAninch, Nelson, Katie O'Brien, Julia Pentangelo, Renee Picard, Alex Sellis, Cora Sherman, Maya Strong, Christopher Szponar, Jane von der Sitt
Steering Committee: Gene Wagendorf III (GRCC/RCC), Andi Aguilar (47th Ward), Omotola Akinbiyi (SSA #31), Elizabeth Hayes (RCC), Summer Cobb (47th Ward Youth Council), Carolyn Bull (Open Wall)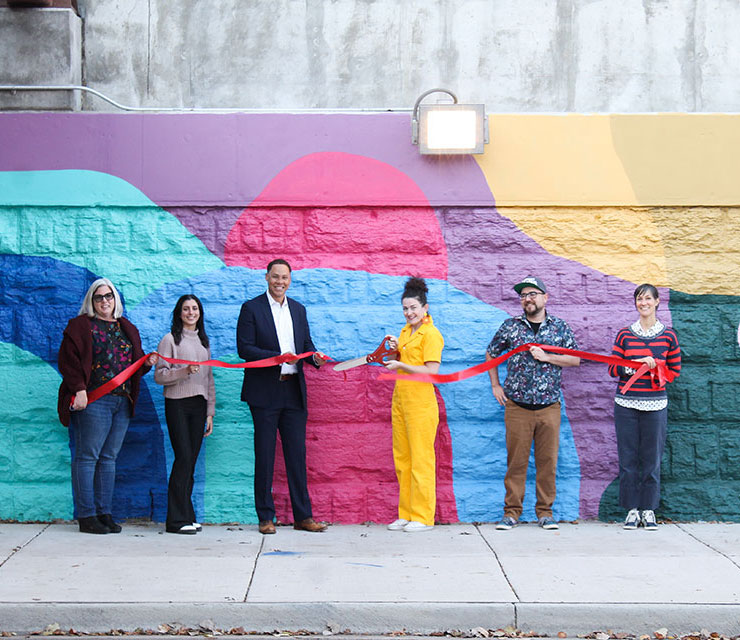 About the Artist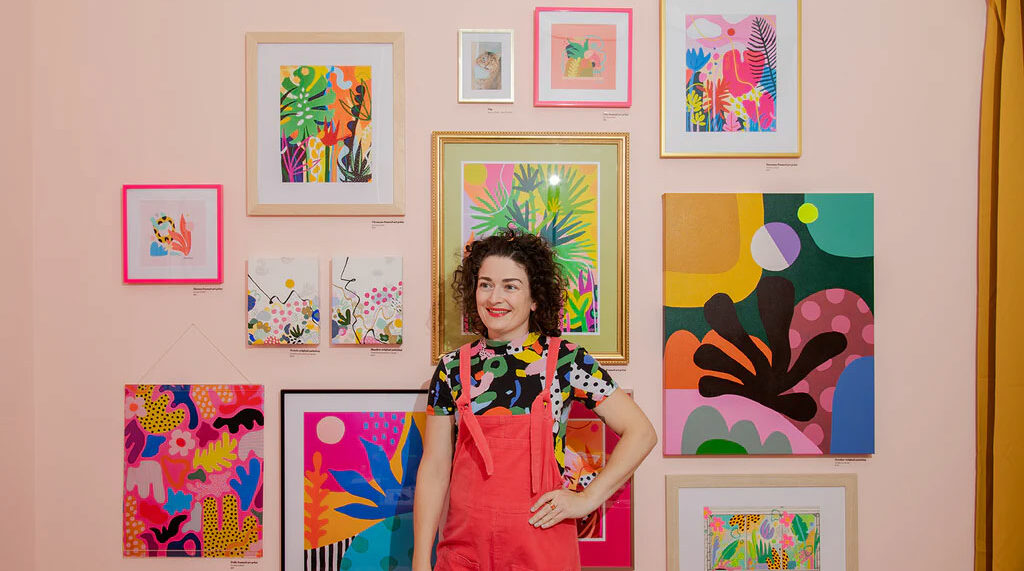 Adrianne Hawthorne is a Chicago-based abstract artist who creates under the name Ponnopozz. A self-described "colorful maximalist," Adrianne comes from a graphic design background. However, she prefers the act of making art with her hands. She initially felt uneasy putting so much of herself out into the world, but has since felt a satisfaction that she never found in corporate America.
The Ravenswood Arts Corridor is a vibrant, diverse place. So many creatives come together here, whether focused on traditional art forms like painting and sculpture, or brewing signature beers for the community to enjoy. I want the shapes and colors in this mural to dance off the wall, to give life to the feelings of joy I have because I'm a part of this community.

Adrianne Hawthorne, Artist
In 2018, she quit her job and began painting in her Ravenswood apartment. A year later, she opened her first studio, where she sold original work, hosted events, and showcased other local makers. The space, called Ponnopozz, expanded in 2021 when Adrianne moved across the street to 4839 N Damen Ave. The goal of Ponnopozz is to foster a color-focused, art driven environment where everyone feels welcome to be themselves. Learn more at www.ponnopozz.com.