The Greater Ravenswood Chamber of Commerce is a Partner to Local Manufacturers
Defining the neighborhood since the late nineteenth-century, Ravenswood's Industrial Corridor is one of the few remaining manufacturing corridors on Chicago's Northside. Along Ravenswood Avenue, you'll find manufacturers making motors, transformers, truck locks and hinges, clothes, snacks, and even beer. And by offering business services to local industries and manufacturers, the GRCC hopes to keep it that way.
How we support our manufacturers:
Helping businesses to expand or relocate to space in the Ravenswood Industrial Corridor by providing information about the corridor, the neighborhood in general, or a particular industry
Launch assistance for new small businesses
Guidance on city-related issues affecting small businesses and City of Chicago Economic Development Incentives
Connecting businesses to financial resources
Employment and workforce development assistance
Land-use planning, infrastructure, and zoning assistance
The Malt Row Committee
With our establishment of Malt Row in 2017, we've helped support a growing industry that has become a defining feature of Ravenswood. To further understand the needs of this industry, we formed the Malt Row Committee. Throughout the year, we meet with the brewers and owners of Malt Row businesses to discuss what they might be struggling with as well as discuss tourism initiatives and marketing opportunities.
Manufacturers Coffees
Throughout the year, the GRCC hosts morning Manufacturers Coffees to help local manufacturers network, raise important issues they're facing, and build an alliance to help preserve industry in Ravenswood. At our morning coffees, we often invite members of the Department of Planning and Development or relevant guest speakers.
To learn more about the manufacturers' committees, coffees, and events, please complete this form or call the GRCC office at (773) 975-2088.
Ravenswood Industrial Corridor: Planning for the Future

The City of Chicago has worked with community development organizations and chambers like ours to develop a strategic retention plan for manufacturing communities. In 2017, as part of former Mayor Rahm Emanuel's industrial corridor modernization initiative, the Department of Planning and Development (DPD) conducted a comprehensive study of the Ravenswood Corridor.
That same year, the GRCC received the Local Industrial Retention Initiative (LIRI) grant in order to address the issues facing our industrial community. Through the grant, we sought to create a viable industrial corridor through the promotion of land-use stability, increased public and private investment, job retention/growth, and improved industry-neighborhood relations.
The Ravenswood Industrial Corridor Framework
The Ravenswood Framework Plan offers recommendations on land use, employment, transportation, sustainability, and even design-guidelines. The framework also provides information on land-use changes over time, employment trends, and real estate.
As a critical partner of the businesses in Ravenswood, the GRCC and SSA 31 play a key role in the implementation of the Ravenswood Framework.
Ravenswood Framework Highlights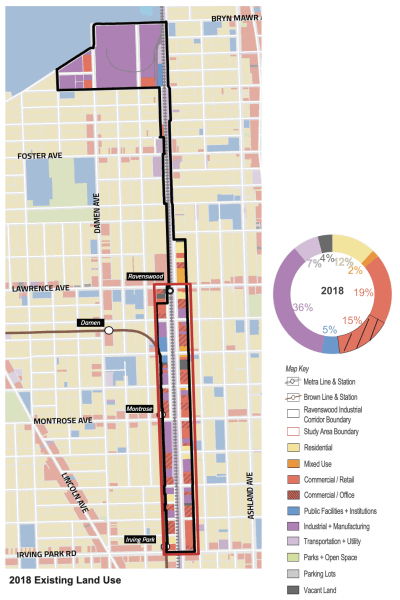 Existing Land Use
Over the past 28 years, industrial land use percentages in the entire RIC have declined, while commercial land use has increased. Institutional and residential uses have remained constant.
Zoning
The north section of the corridor is zoned to primarily support industrial activity Limited Manufacturing (M1) and Light Industry (M2). Some Commercial (C) buffers industrial uses from adjacent residential neighborhoods. Most of the south part of the RIC is currently zoned Limited Manufacturing (M1), which allows limited manufacturing, office and business services activities, and commercial uses, with retail activity permitted as an accessory to core manufacturing or office operations.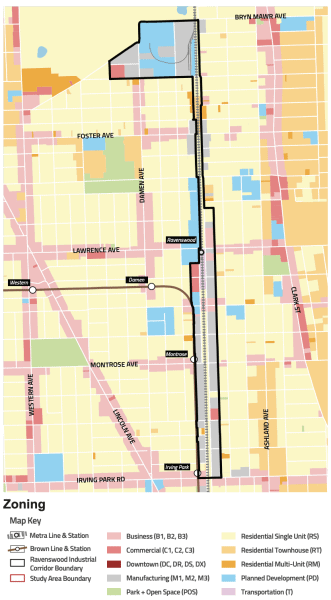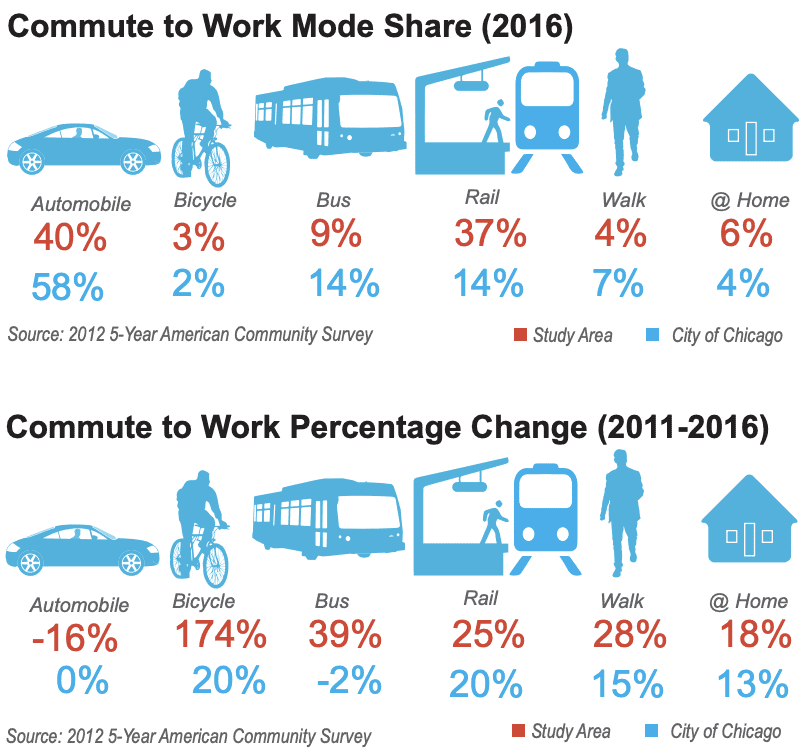 Transportation in the Corridor
The industrial corridor benefits from a robust transit network. The area is served by both the CTA Brown Line and Metra Union Pacific North Line. Local stations for both transit agencies have experienced increased ridership in recent years. East-west CTA bus routes supplement and connect to the rail lines. Most commuters are willing to walk about a half-mile (or around 10 minutes) to and from a transit station and their destination.
Additional Resources and Information