Packed with unique shops, delicious food, skilled artists and friendly people, Ravenswood is a delightful place to explore this season for those seeking thoughtful, out-of-the-ordinary gifts. The Greater Ravenswood Chamber of Commerce (GRCC) is encouraging everyone to shop small over the holidays by making it simple, fun and rewarding to support our favorite local businesses. We're looking forward to another magical Small Business Saturday in Ravenswood!
Ride the Holly Jolly Trolley
We're excited to bring back one of Ravenswood's favorite holiday traditions— the Small Business Saturday Holly Jolly Trolley!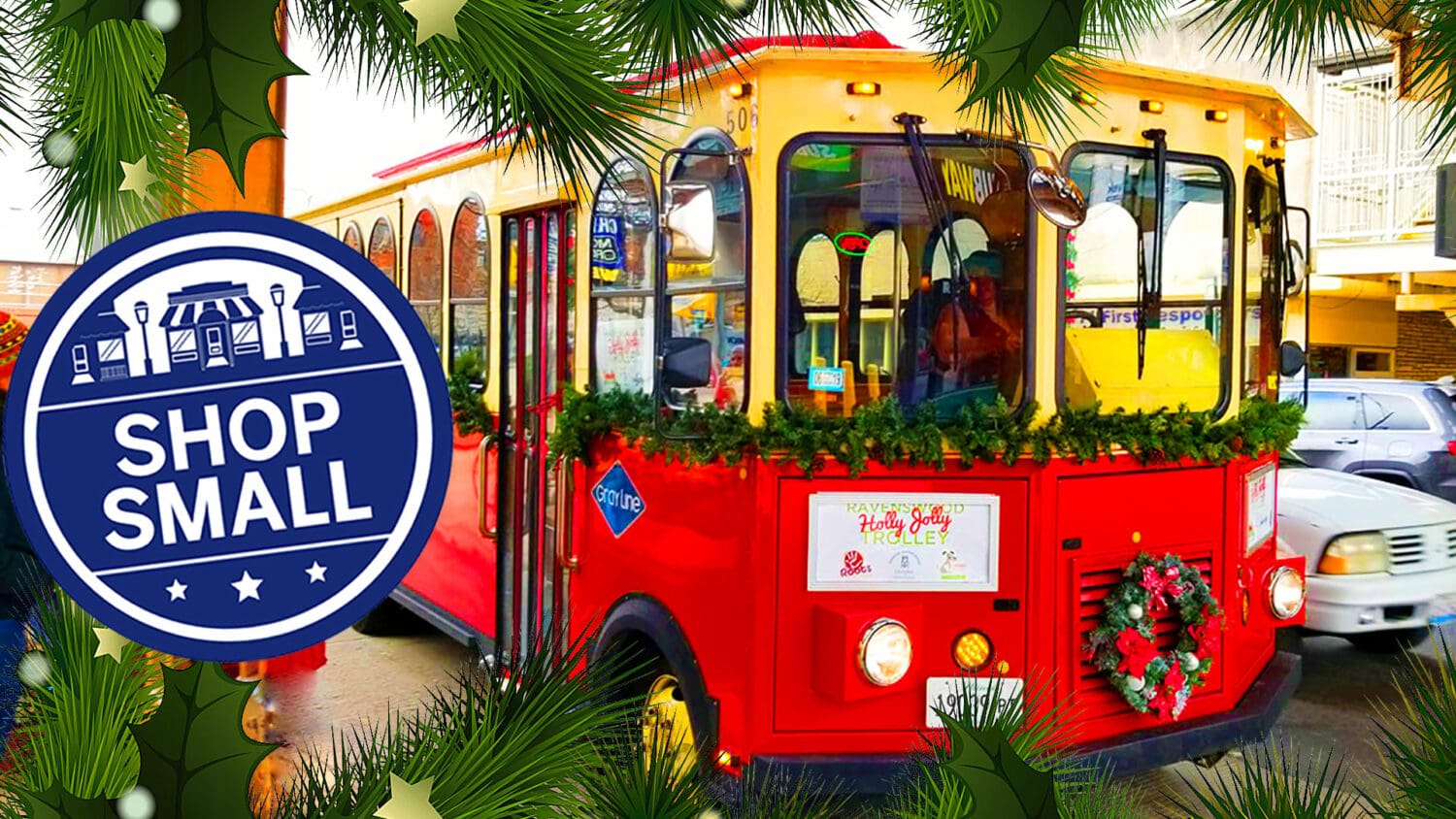 Our trolleys will make multiple stops around the neighborhood, connecting you to hundreds of incredible small businesses without any stress about parking! No tickets are necessary and riders of all ages are welcome aboard.
Trolley Stops + Nearby Shopping
We'll have 4 trolleys making 11 stops around the neighborhood. The Holly Jolly Trolley is free to ride from 11 AM to 5 PM.
Montrose + Wolcott
Ravenswood + Cuyler
Irving Park + Marshfield
Montrose + Ravenswood
Ravenswood + Wilson
Ravenswood + Winona
Damen + Argyle
Damen + Lawrence
Damen + Leland
Ravenswood + Leland
Wilson + Wolcott
📍 Click here to view a route map with info on nearby shops and restaurants.
Get You Free Ravenswood Shopping Bag
Stop by the GRCC's Small Biz Sat Welcome Station for a FREE Ravenswood canvas shopping bag sporting a fresh design from local designer Emily Rapport.
Along with some "Shop Small" swag, you'll get offers and items from local businesses and an Unwrap Ravenswood rewards application. Spend $300 at at least 3 neighborhood small businesses to earn $75 in gift cards to local shops and restaurants. Details below.
Location: Montrose + Wolcott, outside of Hazel
Hours: 12:00 – 3:00 PM
Location: The Long Room, 1612 W Irving Park Rd
Hours: 4:00 – 6:00 PM
Small Business Saturday Sales
Small Business Events + Promotions
Chicago Artisan Market @ Artifact Events
4325 N Ravenswood Ave
Twice a year, the Chicago Artisan Market comes to Ravenswood to showcase the best in Chicago and Midwest food, fashion, home goods and art. This curated market celebrates the ingenuity of independent, small businesses who channel their passions into creating one-of-a-kind products. Courtesy of Hilary's Cookies, Ravenswood blog readers can use promo code SHOPLOCAL for two FREE general admission tickets. 10am-4pm, $8+ More Info
Distillery tour w/ KOVAL Master Distiller + Founder
4121 N Ravenswood Ave
Embark on an in-depth tour and whiskey tasting, led by KOVAL co-founder and Master Distiller Dr. Robert Birnecker. Journey to the ground floor of the distillery and enjoy a behind-the-scenes look at KOVAL's award-winning distillation process. The experience culminates with an exclusive sampling of organic and kosher spirits. 1pm, $20 Click here for tickets.
Lillstreet Gallery's Week-long Holiday Sale Begins 11/27
4401 N Ravenswood Ave
Kicking off on Small Biz Saturday, each day a new category of artist-made goods from Lillstreet's gallery (like mugs, earrings, and textiles) will go on sale in-person and online. Throughout the sale, you can enter for a chance to win a $100 gift card to their gift shop and gallery. Follow @lillstreet and @lillstreetgallery for entry details. More Info
Freebies + Giveaways @ Ponnopozz
4839 N Damen Ave
Adrianne Hawthrone's colorful, maximalist studio and store has several offers running for Small Biz Sat. Along with a 10% off sale on Ponnopozz gift cards, shopper that spend $100 will score a free Baggu brand Ponnopozz reusable bag. Christmas shopping for some art lovers? Buy 2 art prints of any size and get the 3rd for free. 10am-6pm More Info
Starshaped Press Open House + Sale
4639 N Ravenswood Ave
Opened in 1999, Starshaped Press is a private letterpress studio in the Ravenswood Industrial Corridor. On Small Business Saturday, visitors will have the rare chance to enter the studio, see the collection of antique presses and type, and shop for small prints and cards. More Info
Beer, Mead + Cider Tastings @ Gnome Brew
2026 W Montrose Ave
Stop by and learn how easy it is to make beer, wine, cider kombucha and mead at home! Gnome Brew has fun and unique gift ideas, including their Simply Brewing kits which are perfect for the craft beer fan or DIYer on your shopping list. Over the weekend, they'll be serving samples of beer brewed using their recipe kits, along with hot mulled mead and mulled non-alcoholic apple cider. From Friday to Monday, buy a Simply Brewing Equipment Kit along with any Recipe Kit and get $10 to $15 off. More Info

This year's Holly Jolly Trolley and Small Business Saturday promotions are brought to you by My Buddy's, Erwin Law, Hazel, Hayes Properties, the Greater Ravenswood Chamber of Commerce, and SSA#31.
Ravenswood Holiday Events and Promotions
Each year, the GRCC publishes a Ravenswood Gift Guide. We also highlight the best sales, promotions and events taking place around Ravenswood on Small Business Saturday on our blog, in our newsletter, and here on this page!
Unwrap Ravenswood Rewards Program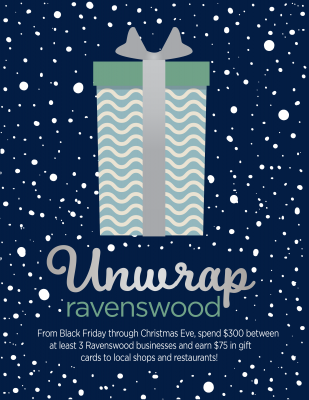 Boundaries: Clark St West to Lincoln Ave, and Foster Ave South to Irving Park Rd
Ravenswood Rewards Application: Click here to download
Our annual winter Ravenswood Rewards program invites shoppers to Unwrap Ravenswood. From Black Friday through Christmas Eve, shoppers that spend $300 between a minimum of 3 qualifying local businesses will receive $75 in gift cards to local stores and restaurants!
Unwrap Ravenswood Rewards Program Rules
Download the Application (PDF)- Click here to download
Holiday Shoppers that spend a total of $300 within the above boundaries on retail products, dining, gift certificates, or services will be eligible to receive a rebate of $75 in the form of 3 $25 gift cards to Ravenswood businesses.
Shoppers must complete and send in a Holiday Shopper Rewards Form (found above) with qualifying receipts.
Shoppers must collect receipts from a minimum of 3 businesses and deliver a copy of those receipts to the Chamber of Commerce once they spend the minimum of $300 collectively.
A minimum of $25, before tax and gratuity, must be spent at a qualifying business for a receipt to be included in the total. A maximum of $100 can be utilized for groceries and/or liquor. Medications or memberships are not allowed to be included in total.
Ineligible purchases include but are not limited to memberships, medication, legal or accounting services, postage, automobile repairs, business-to-business purchases and gasoline.
Copies of receipts must be mailed to the Chamber of Commerce office (1770 W. Berteau Avenue, Suite 101 Chicago IL 60613) with a completed Ravenswood Rewards form.
All copies of receipts should be submitted with a completed Shopper Rewards Form, including name, return address, phone number, email address and zip code.
Rewards in the form of 3 $25 gift certificates to Ravenswood business will be distributed to the first 100 qualifying shoppers who submit a completed form. Limit one submission per household. Gift cards will be randomly selected.
Copies of receipts and a completed form must be submitted by Monday, January 10, 2022.
No gift receipts allowed. Receipts will not be returned.
---
Elf on a Shelf & Mensch on a Bench Holiday Scavenger Hunt
November 28th, 2021 to December 15th, 2021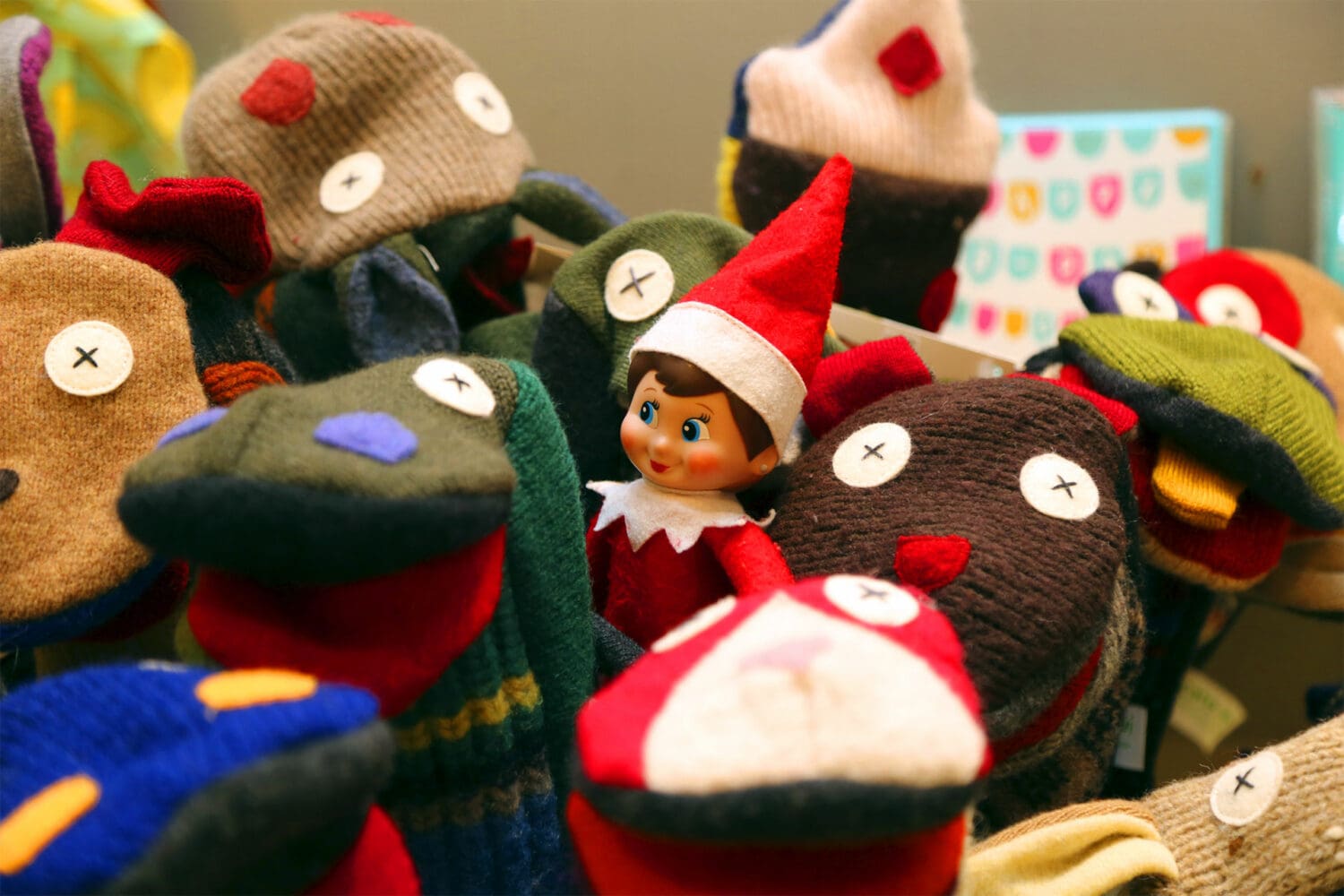 Ever popular, "Elf on the Shelf" is home for the holidays along with "Mensch on the Bench"! If you're not familiar, the Elf on the Shelf is an elf doll who moves around the house leading up to Christmas, watching to see if kids have been good and reporting back to Santa. The Mensch on a Bench is an even newer Hanukkah tradition designed to bring families together. While teaching the importance of the holiday, Moshe the Mensch inspires others to be honorable Mensches during the holiday season. This holiday season, Patty and Moshe will be displayed in the windows of shops and restaurants around Ravenswood!
Patty and Moshe will be hanging out in the windows of different neighborhood businesses. Scan the QR code and fill out the form to be entered into our Grand Prize Drawing for a Ravenswood tote filled with gifts and gift cards to local shops and restaurants! There will be one drawing for Patty sightings, and one drawing for Moshe sightings. Moshe will be visiting windows from November 28th to December 6th, and Patty will take his place from December 7th to December 15th.
Scavenger Hunt Contest Rules + Details
How To Enter:
Find Patty and Moshe dolls displayed in the windows of Ravenswood businesses, then scan the QR code and fill out the online entry form.
Official Rules
Patty and Moshe will be hanging out at 10 businesses between Sunday, November 28, 2021 and Wednesday, December 15, 2011 (though we reserve the right to add additional businesses and dates).
Individuals may submit one entry form per doll found at each participating location. All valid submissions will be entered into our Prize Drawing. Individuals may submit no more than 20 total entry forms.
One Grand Prize Winner, two Patty Prize Winners, and 5 Moshe Prize Winners will be randomly selected on Monday, December 20, 2021 and will be notified by email that day. Failure to respond within 72 hours to the notification message will result in forfeiture of the prize, and the Greater Ravenswood Chamber of Commerce will award the prize to an alternate winner selected by random drawing from among the remaining eligible entries.
The drawing is open to legal U.S. residents age 18 or older. All federal, state and local laws apply. Void where prohibited. No purchase necessary. Odds of winning the prize depend on the number of eligible entries. No prize substitution or cash redemption allowed by the winner. Prizes are not transferable.
Grand Prize includes: Limited edition Ravenswood canvas tote bag, four $15 gift cards to Ravenswood small businesses, a Malt Row hat, a Malt Row can koozie, and a Malt Row puzzle by Bowmanville artist Jessica Licklider, plus gifts from participating local shops and restaurants.
Patty Prizes include: Limited edition Ravenswood canvas shopping bag, two $15 gift cards to Ravenswood small businesses, a Malt Row hat, a Malt Row can koozie
Moshe Prize Include: Limited edition Ravenswood canvas shopping bag, a $25 gift card to a Ravenswood small business