Join us for the Ravenswood Costume Crawl, a ghostly new sweets and BOOze tasting stroll!
On October 26th from 5:30pm to 8:30pm, your favorite Ravenswood haunts are teaming up for an evening of treats and drinks. Enjoy a fantastic selection of local desserts, candy, and beer and cocktail samples as you zombie shuffle between shops and restaurants along Montrose and Ravenswood Ave. Click here to purchase tickets.
The Ravenswood Costume Crawl is a bone-chilling (in a good way!) opportunity to sample a variety of our neighborhood's flavors and menu items in one evening. It's also a fun way to explore and support the vibrant mix of restaurants, taverns, and shops along Montrose and Ravenswood avenues. First, you'll creep over to check-in at Artifact Events (4325 N Ravenswood Ave), where you'll get your wristband, punch card, and map. Then, you're off to devour some treats and check out some cool local businesses!
Have your costume ready before Halloween? Three lucky costumed attendees will score prizes from our friends at KOVAL Distillery!
Participating Businesses
Tickets are $25.00 in advance and $30.00 day-of (if available). Tickets include 10 tasting-sized portions of desserts and beverages, a Ravenswood canvas tote bag, and some goodies from our partners.
The Ravenswood Costume Crawl is brought to you by the Greater Ravenswood Chamber of Commerce, Redline VR, Eye See Ravenswood, KOVAL Distillery, and Bolt Fitness.
Ravenswood Costume Crawl After Party at Redline VR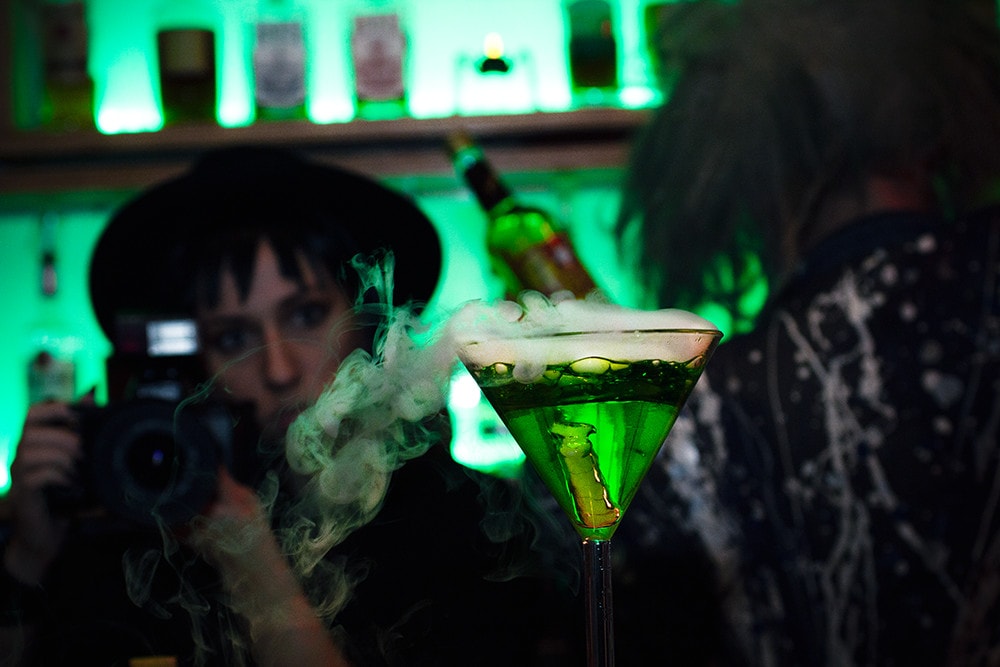 Meet up with other Costume Crawlers at Redline VR's Beetlejuice pop-up! Experience an evening of Witch-Craft Cocktails, karaoke, undead staff, and more spooktacular fun. Specials include 30 minutes of virtual reality zombie slaying for only $20, and $4 "Ecto Cooler" beers from Old Irving Brewing Co.
$40 VIP packages are available and include $30 of virtual reality zombie gaming and a Witch-Craft cocktail ($12) served by Beetlejuice himself! (9-12pm, 4702 N Ravenswood Ave, 21+)