Ravenswood ArtWalk is back! Explore one of Chicago's most vibrant creative communities on Saturday, September 16th and Sunday September 17th.
RAW runs from 11 AM to 6 PM each day along Ravenswood Ave, from Lawrence to Irving Park Rd. The festival features open studios and galleries, 45+ participating businesses, pop-up performances and activations, live music, public art, an outdoor arts market, beer garden and more. To view our full list of performances and participants, click here.
RAW is full of exciting and free things to do for visitors of all ages. Check out Big Teeth's 60 Second Film Fest, watch a swordplay demo, take a dance class, explore projection art and virtual reality, or help build an Exquisite Fort! Here, we've highlighted some of the activities and activations at the 2023 Ravenswood ArtWalk.
Ravenswood ArtWalk Weekend Highlights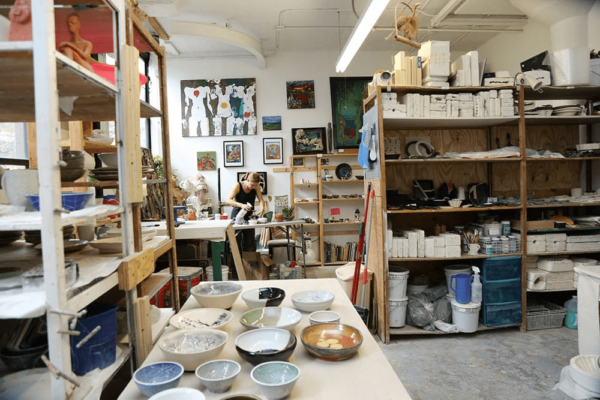 Lillstreet Art Center Fall Open House
4401 N Ravenswood Ave
Lillstreet is a special space for all curious folks — newbies, pros, artists, makers, instructors, hobbyists, students, skeptics, babies, toddlers, teens, 20-70 somethings, retirees, and everything in between. No matter how you define yourself, their space is designed for all to work side-by-side in a friendly, supportive environment.
For RAW, Lillstreet Art Center hosts their annual Fall Open House, complete with open artist studios, free drop-in workshops, and a gallery sale! Enjoy a handmade shopping experience with work from over 100 artists in their gallery on the first floor.
Ravenswood Sculpture Garden
Along Ravenswood Ave, Lawrence to Irving Park
The Ravenswood Sculpture Garden was established in 2021 by the Ravenswood Community Council, Greater Ravenswood Chamber of Commerce, and Special Service Area #31. Located in the historic Ravenswood Industrial Corridor, our young collection features 10 sculptures, with a new one coming this weekend. We've also funded the installation of several murals along this stretch, the most recent being named Best Mural in the Chicago Reader's 2022 Best of Chicago Awards. Find our collection on the RAW map marked as "Ravenswood Public Art."
Ribbon Cutting for The Nurse Tree
Ravenswood & Warner, west side of the tracks
We're excited to introduce the latest addition to the Ravenswood Sculpture Garden during RAW weekend! Created by Sarah Hicks, The Nurse Trees infuses two decommissioned utility poles with delicate, handcrafted ceramics. The pieces are inspired by the natural life cycle of the types of trees commonly used to create utility poles. Join us for a quick ribbon cutting celebration on Saturday, September 16 at 1pm at the corner of Ravenswood Ave and Warner.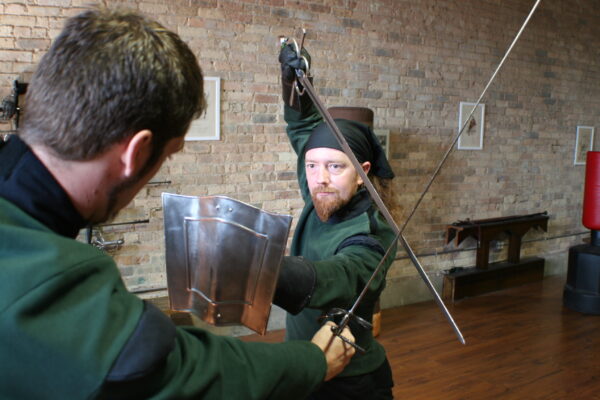 Swordplay Classes & Demos at Forteza Fitness
4437 N Ravenswood Ave
Forteza Fitness is Chicago's most unique gym, combining Medieval and Renaissance swordplay, Archery and Fitness classes. Their offerings extend to adult, teen, and youth programs, ensuring a comprehensive experience for enthusiasts of all ages.
For RAW, their team will present demonstrations, including handling of antique and replica swords! Forteza will also offer short, 30-minute classes to show off what they do and why you'll love it.
Peak Inside Local Artist Studios
Ravenswood Ave, Lawrence to Irving Park
The Ravenswood Industrial Corridor has long been home to a thriving community of professional artists in a variety of disciples. As you explore RAW, make time to explore the artist studios, creative businesses, and historic buildings on this weekend's map. The people working here, their creativity, and their collaborative spirit, are what make Ravenswood unlike any place else.
This year, we're excited to add a number of studios to our list of open spaces. Artists like Kevin Swallow, Anne Leuck, Eric Weinstein, Kathie Shaw, and Verónica Casado Hernández are new to our map. They join longtime RAW favorites like Bill Bartelt, Laurie Shaman, Chex Studio, Starshaped Press, and Manifold.
Click here to see our full list of participating studios and galleries.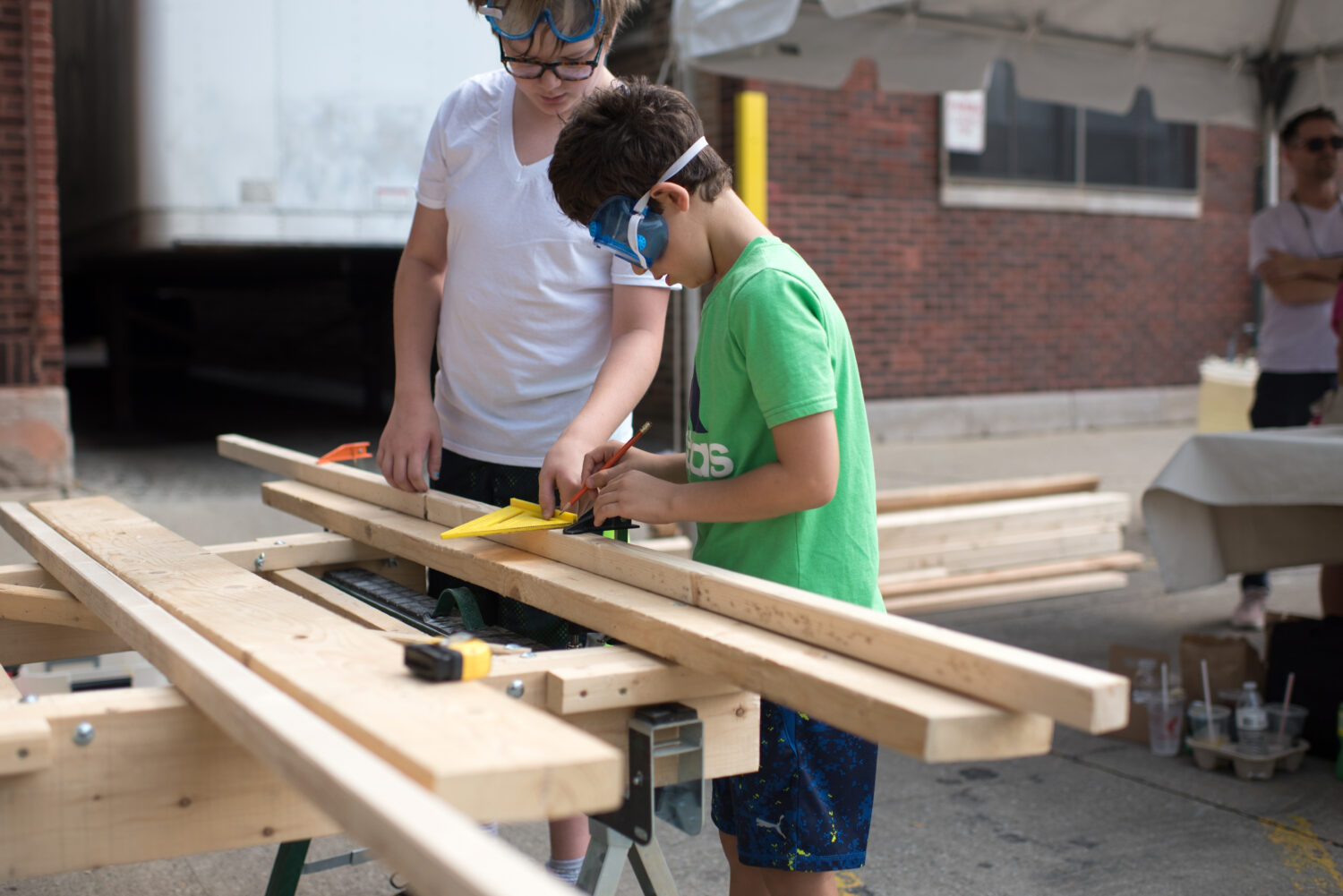 BitSpace Exquisite Fort Building
4147 N Ravenswood Ave, in the RAW Outdoor Arts Market
Stop by the Outdoor Arts Market at Ravenswood and Berteau and bring the kids! We are beyond thrilled to welcome BitSpace back to Ravenswood ArtWalk for one of our most popular kids activities!
Kids can join BitSpace for a collaborative, hands-on building project that runs throughout RAW weekend. Every little bit of building helps to create an Exquisite Fort! This completely kid-designed and built play place is the end result of two days of unfiltered creativity. BitSpace's instructors guide children through the use of woodworking tools and safety equipment, while parents can enjoy live music and cold beer from Begyle Brewing.
Big Teeth Sixty Second Film Festival
4001 N Ravenswood Ave, Suite 301
Big Teeth Productions is excited to bring back their Sixty Second Film Festival for its 7th screening at RAW. Visitors will get to screen multiple one-minute films—all inspired by famous works of art. The fifteen-minute show will screen every hour at the top of the hour, the :20 and :40.
As this fest is rooted in "art," Big Teeth curates a list of famous works of art that each filmmaker chooses at random. Their short films must then must find inspiration from that piece. How they choose to be inspired is entirely up to the filmmaker. Experience the full gamut of emotions in a fun mix of live action and animated films – all in less than 15 minutes!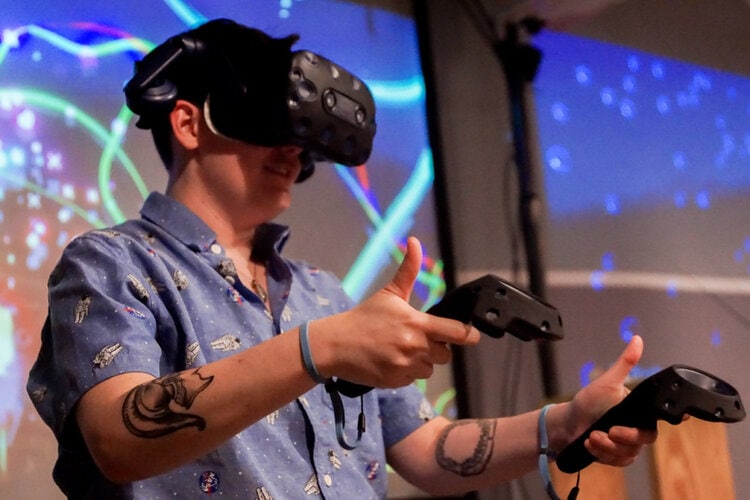 Special Installations & Exhibits at Redline VR
4702 N Ravenswood Ave
Redline VR is Chicago's first and best-rated virtual reality arcade and bar. During RAW weekend, Redline VR will be in festival mode hosting vendors, projection artists, guest artists including John Ross Wilson, and a new art installation devoted to Chicago's storefront theatre over the last decade. We also encourage you to join them for The Yallpry on Sun. 9/17 from 11am to 8pm for a celebration of queer artists, crafters, and artisans.
Dance Classes at Ballroom College
4011 N Ravenswood Ave
Ballroom College specializes in getting you dancing in no time, without breaking the bank! Throughout RAW weekend, they will be hosting free, drop-in dance lessons at their gorgeous first-floor dance studio.
For more festival information and to plan your weekend, visit the Official RAW webpage.
---
Ravenswood ArtWalk: Tour of Arts & Industry
September 16 & 17, 11 AM – 6 PM
Free to Attend | $5-10 Suggested Donation
Enter at Ravenswood & Berteau
www.ravenswoodchicago.org/signature-events/ravenswood-artwalk/
---
Other Posts Your May Enjoy