The Ravenswood Community Council, in partnership with the Greater Ravenswood Chamber of Commerce and Special Service Area #31, is seeking proposals from artists to beautify two decommissioned utility poles along Ravenswood Avenue. The goal is to transform these structures and add more public art to the Ravenswood Sculpture Garden. Artists are invited to submit proposals for work on BOTH poles.
Project Background & Site Description
The Ravenswood Sculpture Garden is home to 10 works installed along the historic Ravenswood Industrial Corridor, from Lawrence Ave to Irving Park Rd. Along the west side of the train tracks, between Warner Ave and Belle Plaine Ave, there are two decommissioned utility poles. Transforming these poles provides a unique opportunity to expand the Ravenswood Sculpture Garden on the west side of the tracks, where public way space is limited.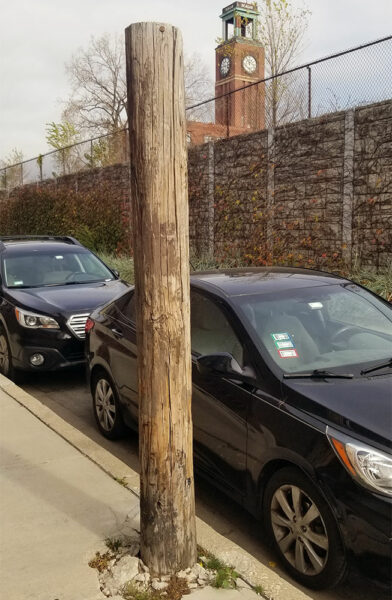 The northern pole is roughly 7ft 10in tall and the southern pole is roughly 7ft 8in tall. Both poles measure 33in in circumference and have uneven or slanted tops. The poles are composed of splitting, weathered wood. Both have a fair amount of staples in them.
Project Timeline
March 27 – RFP Issued
May 15 – Proposal Submission Deadline
May 15 – May 30 – Proposal Review Period
May 31 – Artist Notification
June 1 – July 31 – Project Review Period
August 1 – September 5 – Work Period
September 5 – Project Completion
September 16 – Ribbon Cutting Celebration at Ravenswood ArtWalk
Artist Eligibility
This opportunity is open to Artists with experience in mural or sculpture design/installation and public art. While not required, preference will be given to Artists residing and working in Chicago. Through examples of past work, Artists must demonstrate the ability to develop and implement a work of public art in durable and/or permanent materials suitable for outdoor environments, and which requires minimal to no maintenance.
Request for Proposals
Artists may submit Proposals beginning on Tuesday, March 28, 2023. Proposals should include BOTH poles. The total project budget is $5,000. This includes all artist fees, supplies, permits, and travel expenses.
Note: Slight updates, in the form of clarifications, have been made to our RFP since posting on 3/22.
To have your Proposal considered, please submit the following information using this form. All Proposals must include the following documents and information:
A brief description your Proposal how it meets the Project Expectations.
A high-quality, full-color rendering of your proposed artwork.
A Resume/CV for the Proposal's lead artist(s).
Examples of previous work, with a focus on murals, sculptures, and other public art.
Details on your medium, materials, and techniques.
Details about how your work will be weatherproofed to last as long as possible in the elements.
A signed copy of the Statement of Understanding (see Page 4 of the RFP).
To be considered, submissions must be received no later than 5:00 PM CDT on Monday, May 15, 2023.
---

Other Posts You May Enjoy: