Fall is a magic time in Ravenswood when the leaves change color, pumpkin lattes appear on cafe chalkboards, and Oktoberfest beers are brewed across Malt Row. We've scoured Ravenswood to bring you the best fall fashion, harvest flavors, and other seasonal fun.
Seasonal Style Highlights
Locals flock to Hazel's apparel store (1926 W Montrose Ave) every fall for comfy sweaters, chic scarves, and handcrafted handbags. This year, the shop is earning buzz for mask fashion and pairings. Follow them on Instagram for the latest, like this Fall Mask Fashion Instagram Story. Hazel's gift store (1835 W Montrose Ave) also has a variety of patterned masks, as well as Halloween home decor, puzzles for chilly nights and gift packages like the Outdoor Fun for Kids Bundle, Bike Bundle, and Beer Picnic Bundle that are perfect for crisp fall days.
For the very latest work from an impeccably curated roster of artisans, the destination is Sailor (4658 N Damen Ave). Jewelry designer Sarah McGuire's shop highlights work from 35 other jewelry designers, including 11 wedding ring collections, alongside ceramics, candles, art and apothecary items. Some truly stunning new fall jewelry is available through Sailor's online store, but Sarah admits many of her favorite pieces never make the website. To be sure you don't miss out on some one-of-a-kind pieces, subscribe to Sailor's mailing list or make an appointment to visit the store.
For those into the thrill of seasonal thrifting, Family Tree Resale (5066 N Lincoln Ave) offers "5,000 square feet of thrift store heaven" open to the public and for private appointment shopping. Recent finds include Autumn home decor, Halloween sweaters and decorations, fleece jackets, and back-to-school gear. Click here to read our Local Business Spotlight interview with Family Tree owner Elizabeth Basa.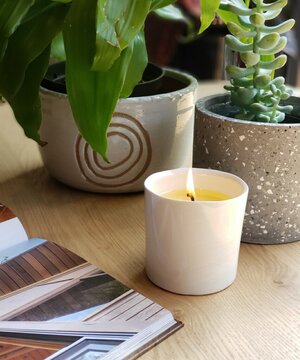 For contemporary and stylish home furnishings, Ravenswood goes to District (4835 N Damen Ave). Visit the chic storefront location and you'll find jaw-dropping, meticulously restored Mid Century Modern furniture. Shop online and browse gifts like District's Fall/Winter candle collection, which highlights scents like Bourbon Old Fashioned, Lumberjack, Blood Orange + Sriracha, and Nutmeg + Apple + Clove.
Sustainability-minded fashionistas will want to check out Basic Revolution's new Women's Fall Sock Box. Each box contains 4 pairs of organic, cotton knee socks that come in black and/or purple. They're stretchy, comfortable, and perfect for boot season. Plus, each box comes with clothing recycling so you can ditch those hole-y old socks from last year.
Where to Enjoy Fall Flavors in Ravenswood
Made Locally With Love
River Valley Farmer's Table (1820 W Wilson Ave) is supporting the farmers they work with year-round by offering customers "CSA" (Community Supported Agriculture) boxes filled ingredients featured on the restaurant's menu. Shares include goods from the Down at the Farms Collective, Ellis Family Farms, Mick Klug Farm, Garden Gate Farm, and of course, River Valley Ranch. Each box will contain farm fresh eggs, sourdough boule, mushrooms, organic greens, a variety of produce, and a specialty item from the River Valley Farmer's Table kitchen. You can even add grocery items from the restaurant to your order each week. Note: RVFT can make boxes vegan or gluten free!
Check out River Valley's online store here to sign up for the Winter CSA. There you'll also find fall favorites like the KOVAL Rye Manhattan Kit, Butternut Squash Ravioli, Apple Butter, and Sparrow Coffee's River Valley Blend.
Want more ways to jazz up your meals at home? Or are you looking to get ahead start on holiday gifts? Spoken Cafe's (1812 W Montrose Ave) small batch jams, pickles, and sauces are available for shipping through their new online shop. Stock up or send to friends the tastes of late summer and fall all winter long with items like Apple Jelly with Chai, Apricot Chipotle Jam, Pickled Asparagus, Blueberry BBQ Sauce, Zucchini Relish, and Hatch Green Chile Sauce with KOVAL Bourbon. Around 70 flavors are available depending on the season! All goods are handmade at the restaurant and sourced from mid-west farms. Order and shop online at shop.spokenchicago.com.
With extra time on his hands during quarantine, Chef Darnell Reed of Luella's Southern Kitchen (4609 N Lincoln Ave) started taking online baking classes from the founders of Chicago's French Pastry School. After spending some time tweaking recipes, he launched Baye's Little Bakery. The menu changes frequently, and right now features fall staples like Apple Cobbler, Deep Dish Sweet Potato Pie, and Apple Cobbler Cinnamon Rolls. This to-go–only concept operates out of the Luella's storefront and accepts orders using CashDrop. Orders must be placed by 3pm the day before pickup. See the latest menu items and place an order here.
Neighborhood Businesses Team Up to Bring You Caramel Apples with Your Beer
Pair that fresh 4-pack of Stacks of Wheat Golden Ale with a pumpkin! Half Acre Beer Co. (4257 N Lincoln Ave) is now offering customers the chance to pick up fall favorites along with their beer orders. The iconic independent brewery's online store now features caramel apples made right here in Ravenswood at Amy's Candy Bar (4704 N Damen Ave). Planning to carve a pumpkin for Halloween? Snag a free Half Acre "Curbside Pumpkin Template" with your order too! Order your brews and treats here or go to amyscandybar.com to shop their current menu of seasonal sweets.
Oktoberfest, Cranberry Collabs, and Stouts Galore
Breweries across Malt Row get into the spirit this time of year by brewing up Oktoberfest beers, pumpkin ales, and punchy stouts to keep you warm around the fire. Keep in mind that available beers change frequently and it's always best to check the breweries website the day you're planning to visit. The taproom at Spiteful Brewery (2024 W Balmoral Ave) is open for draft service and also offers online ordering for beer-to-go. That's two ways you can enjoy Spiteful's Oktoberfest beer, a delicious Amber Marzen-Style Lager at an easy drinking 5.5% ABV.
If you're planning on a campfire or bonfire, we recommend paying a visit to Dovetail Brewery (1800 W Belle Plaine Ave). Check out their online shop to grab the "Campfire Special," which includes a 4-pack of their smoky Rauchbier and a bundle of retired bourbon barrel staves to get your fire started.
For those who've been eagerly awaiting stout-season, Empirical Brewery's (1801 W Foster Ave) current offerings include Neutronium Imperial Rye Stout, Nitro Dry Irish Stout, and their 2019 Buffalo Trace Barrel Aged Double Chocolate Neutronium. The patio and taproom are both open and beer is available to-go. Another option for a quick warm up: Right now Begyle Brewery (1800 W Cuyler Ave) has their highly-coveted Bourbon Barrel Aged Snooze Button available for purchase online in cans. This 13% ABV Russian Imperial Stout aged in Buffalo Trace bourbon barrels, making it a perfect beer for cooler evenings.
Also available via Empirical this fall is All Together Now, the first collaborative beer from Malt Row's breweries. The gang got together this past spring and brewed a delicious Farmhouse Ale with French Barbe Rouge hops that was then aged for 3 months in KOVAL Distillery Gin barrels. A limited run of 150 bottles are available for purchase through Empirical starting on Friday, October 16th. Click here for details.
Other Fall Spirits from Ravenswood (Not the Spooky Kind)
The recipe for All Together Now was in part inspired by KOVAL Distillery Cranberry Gin Liqueur. This popular spirit has quickly become a holiday staple in Ravenswood. An homage to aperitif culture, it is an excellent base for easy, enticing fall cocktails. The liqueur contains an vibrant blend of fruit-forward and bittersweet flavors, surrounded by the crisp, well-rounded notes of KOVAL Gin's signature botanicals. Like all their spirits, the Cranberry Gin Liqueur is made from natural ingredients sourced directly from organic Midwestern farmers. Visit KOVAL's website to find a retailer near you. Or order a bottle for pickup from River Valley Famer's Table!
For a killer seasonal cocktail you don't have to prepare yourself, we present to you The Long Room (1612 W Irving Park Rd). In response to the COVID-19 pandemic, this neighborhood favorite launched a bottled cocktail line that's earning rave reviews. Among the most popular for the fall are the Poppa Jones (Old Forester 86 Bourbon, Averna, homemade chamomile syrup, lemon juice), Sherry Berry (Aronia, Amaro Lucano, lime juice, simple syrup) and the Lincoln's Hat (Sacred Bond 100 proof brandy, Tattersall Sour Cherry Liqueur, Bitter Ex "I Will Survive" citrus bitters). You can place an order for pickup at the-long-room.square.site.
Cider Day and Pumpkin-palooza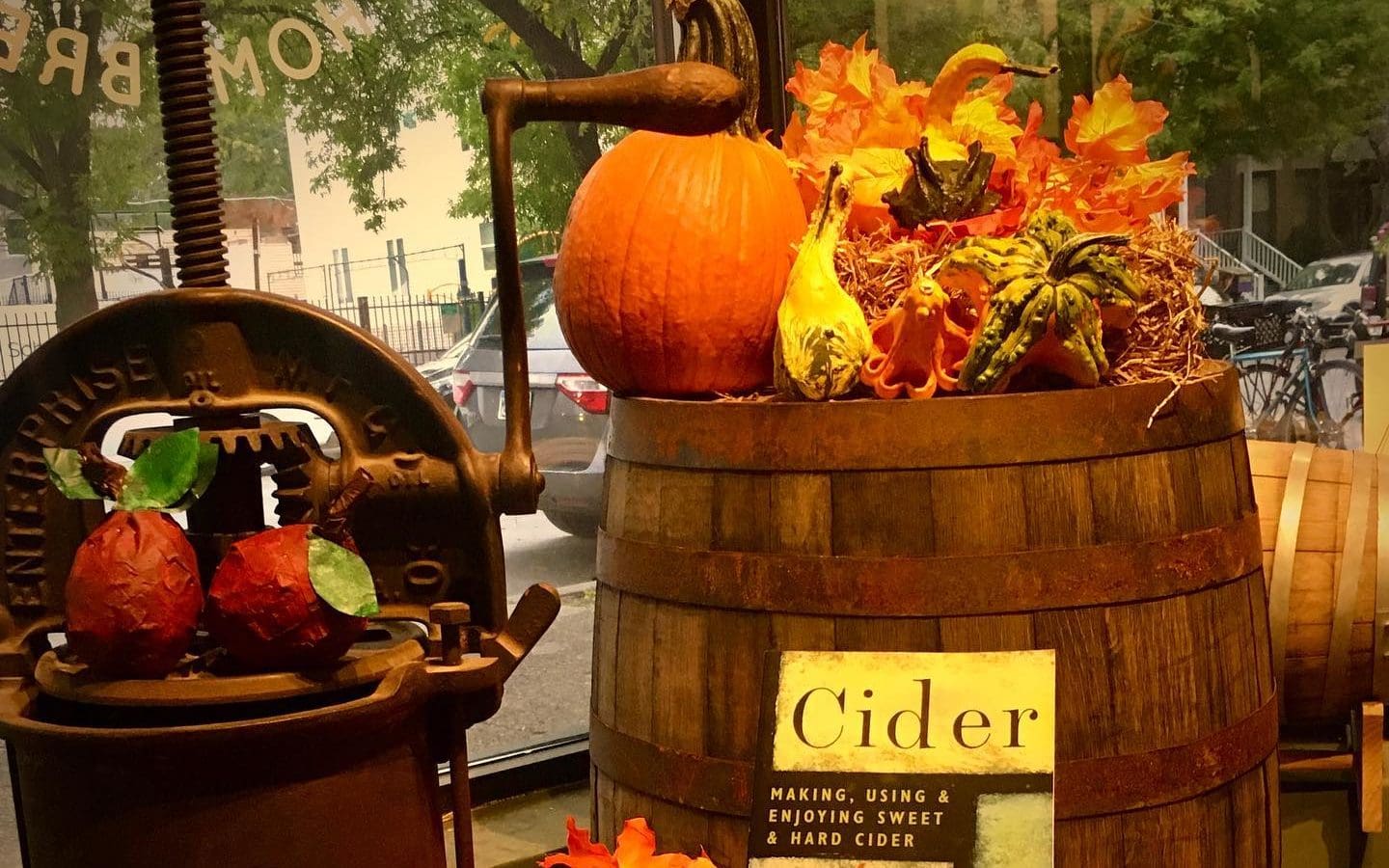 If you're into making your own hooch, or you just really like cider, join in on a group cider buy at Gnome Brew (2026 W Montrose Ave) for their annual Cider Day (October 17th). Ravenswood's homebrew supply store is placing a huge order from their favorite farm in Michigan. The cider is fresh-pressed at the orchard and made from an award-winning blend of organic apples. David from Gnome Brew says it's the great for making hard cider or drinking fresh. Customers can order by the gallon and expect pickup in mid-October. Brewing equipment, recipes and instructions are available from Gnome Brew. Place orders and get more information at gnomebrewshop.com/cider.
What would a Best of Fall post be without a breakdown of pumpkin-flavored dishes from around the neighborhood? No doubt this list will grow as we get deeper into the season. Have a pumpkin-flavored fave from a local business that we missed? Let us know by emailing info@ravenswoodchicago.org with the word "Pumpkin" in the subject line.
We start with a classic: the Pumpkin Pie Latte. If that gets you as excited as it gets us, check out Groundswell Coffee Roasters (4839 N Damen Ave) for a deliciously rich latte with house-made organic pumpkin purée, mulling spice, and cinnamon. You can order ahead online at groundswellcoffeeroasters.com.
Looking for a pumpkin dish you might not have tried? Rojo Gusano (4217 N Ravenswood Ave) makes a Spicy Pumpkin Seed Guacamole that will have you begging the chef for the recipe. All we can tell you is it involves fresh pineapple chunks caramelized with chipotle peppers. That magic gets mixed into the guacamole and topped with spicy toasted pumpkin seeds. Yum. Rojo's beautiful outdoor patio is open for walk-up seating and they also offer takeout and delivery. View their menus at rojogusano.com/ravenswood.
For the sweet stuff, we turn to Hilary's Cookies (4917 N Lincoln Ave). The local bakery, a Ravenswood Farmers Market favorite, is offering a variety of assorted pumpkin treats each week. Recent items include Pumpkin Pecan Crunch mini-cakes and pumpkin spice scones. Hilary has also been infusing her chewy vegan granola bites with fall flavors like cranberry orange spice and caramel apple peanut. Follow Hilary's Cookies on Facebook for the latest menu and details on ordering for pickup or delivery.

Related Feature: Celebrating Halloween in Ravenswood
Halloween Week in Ravenswood

October 12, 2021

Posted in:

Community News We've got info on spooky celebrations and haunted happenings in and around Ravenswood this Halloween season. Read Full Article
Celebrating Halloween in Ravenswood

October 12, 2020

Posted in:

Community News Halloween in Chicago is officially on! The Mayor announced plans to celebrate that emphasizes important safety precautions while allowing trick-or-treating and other spooky fun. We've got details on Ravenswood's Costume & Candy Caravan, a drive-thru trick-or-treat event, plus events, virtual costume contests and more from around Ravenswood. Read Full Article
Staying Fit Through the Holidays
A change is in the wind! On the Route Bicycles (2338 N Lawrence Ave) has new bikes and fall gear coming in throughout October and November. Owner Joanne McSweeney tells us fall is the best bike riding and she's celebrating her favorite time of year by featuring comfort and fitness hybrids that are perfect for ride through Winnemac Park or down the scenic Ravenswood Corridor. Seasonal bike accessories and clothing are in-stock as well, along with bike racks and panniers for your fall picnic rides. Browse bikes and bike stuff online at ontheroute.com.
Concerned about putting on extra weight with the holidays coming up? Feast Fitness + Nutrition (4510 N Ravenswood Ave) can help get your body in shape while giving you the tools you need to keep it that way. Their team of knowledgeable fitness coaches can scale training up or down to meet your specific needs, while offering complimentary nutritional training that's sustainable and easy to adopt.
Looking for a more creative way to stay in shape as the temperature drops? Redline VR (4702 N Ravenswood Ave) has is offering cardio, boxing, and mediation as a part of what they're calling "Chicago's first fully immersive virtual reality fitness club." Visit redlinevr.com/fitness-club to claim a free first class, explore membership options, and review Redline's COVID-19 guidelines.
Related Feature: Celebrating Filipino American History Month in Ravenswood
---
Related Links