Way back in March of 2020, the Greater Ravenswood Chamber of Commerce (GRCC) invited brewers from across Malt Row to participate in their first ever collaborative brew day. Brewers from Band of Bohemia, Empirical, Half Acre, LaGrow, Smylie Brothers, Spiteful, and Urban Brew Labs came together on Friday, March 13th, with the intention of creating a special beer for release at the annual Ravenswood On Tap craft beer festival. Then slated for late June, the event would have marked the fifth anniversary of joint promotional efforts from Ravenswood's community of independent craft breweries.
No Good Plan Goes Unpunished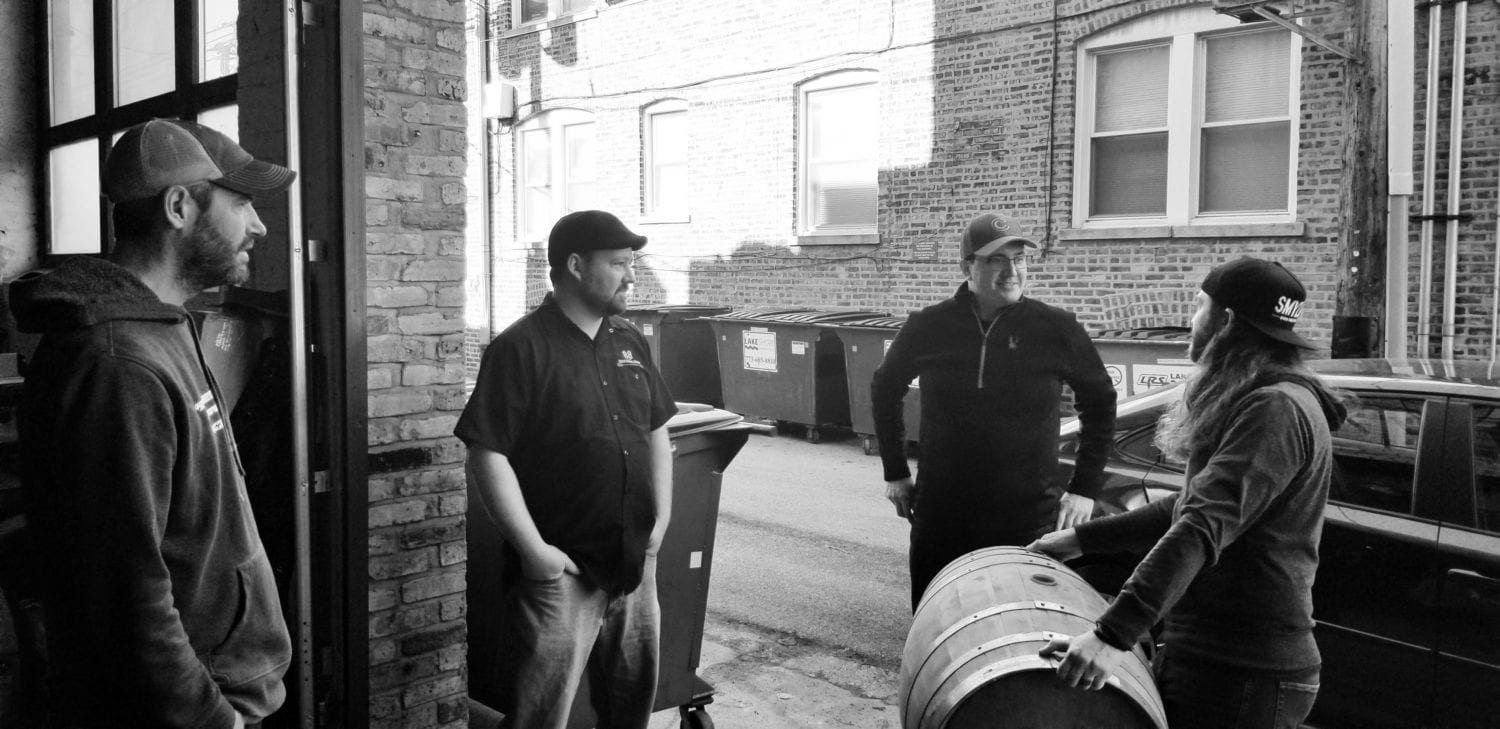 To include KOVAL, Malt Row's world-renowned organic distillery, the group developed a recipe specifically for aging in KOVAL gin barrels. According to GRCC Associate Director Gene Wagendorf III, "the gin barrels Mitch [from KOVAL] brought smelled so much like cranberry, we had to double check that they hadn't been holding KOVAL's Cranberry Gin." He added that the aroma gave Jacob Huston, Empirical's head brewer, a bolt of inspiration that "resulted in a quick recipe pivot and an exciting new concept for the beer."
What the group didn't know at the time was that within a week Chicago would be locked down in response to the COVID-19 pandemic. The first collab brew day ended up being the last time the Malt Row gang was physically together. As a result of COVID-19, the beer's planned release at Ravenswood On Tap was derailed and all of Chicago's summer events were cancelled.
Malt Row to the Rescue
The loss of revenue from festivals like On Tap and Ravenswood ArtWalk has been a critical hit for the GRCC, a non-profit organization that relies heavily on special events to fund their work supporting small businesses. Thankfully, a few of the brewers came up with a help: release this crazy collaborative beer as a fundraiser for the chamber!
The result of the first ever Malt Row collab brew day is All Together Now, a delicious Farmhouse Ale aged for three months in KOVAL's Gin barrels. The beer showcases French Barbe Rouge hops, alongside Pilsner malt and flaked wheat. "The gin barrel character really shines in this Farmhouse Ale with notes of juniper botanicals and oak, a heavy mouthfeel with slight fruitiness, and a warming finish," says Empirical head brewer Jacob Huston, one of the few to have tasted the beer so far. All Together Now weighs in at 7.5% ABV / IBU: 28/ SRM: 4.3.
Note: the label incorrectly states this beer was aged in KOVAL "Cranberry" Gin barrels. Whoops! They were just gin barrels that smelled like cranberries!
Where to Get Yours
All Together Now can be purchased directly from Empirical Brewery's taproom (1801 W Foster Ave) starting on Friday, October 16th ($16 each, 500ml bottles, limit 4 per person). Only 150 bottles of this unique, one-off collaborative beer will be available to the public. When they're gone, they're gone for good! Sales of All Together Now benefit the Greater Ravenswood Chamber of Commerce and their work supporting neighborhood small businesses.
Related Links