Ravenswood ArtWalk is back! Explore one of Chicago's most vibrant creative communities on Saturday, September 10th and Sunday September 11th.
RAW runs from 11 AM to 6 PM each day along Ravenswood Ave, from Lawrence to Irving Park Rd. The festival features open studios and galleries, 25+ participating businesses, pop-up performances and activations, live music and dance, public art, an outdoor arts market, beer garden and more. To view our full list of performances and participants, click here.
Weekend Highlights
RAW is full of things to do for visitors of all ages. Check out a short film festival, take a free swordplay or dance class, contribute to an art exhibit, or join a public art and sustainability workshop! Here, we've collected details on some of the free activities and activations at the 2022 Ravenswood ArtWalk.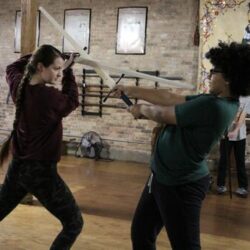 Big Teeth Sixty Second Film Fest
4001 N Ravenswood Ave
Big Teeth Productions is excited to bring back their Sixty Second Film Festival for its 6th year. Visitors will get to screen multiple one-minute films—all inspired by famous works of art. The fifteen-minute show will screen every hour at the top of the hour, the :20 and :40.
As this fest is rooted in "art," Big Teeth curates a list of famous works of art that each filmmaker chooses at random. Their short films must then must find inspiration from that piece. How they choose to be inspired is entirely up to the filmmaker. For more information, visit bigteeth.tv/filmfest.
---
Pino: A Habitat Tree Workshop
4501 N Ravenswood Ave
On Sunday, September 11 from (11am-1pm), come build pollinator nests to be included in Pino, a new pollinator habitat and sculpture in the Ravenswood Sculpture Garden! Drop in for as long as you like to help assemble nesting materials. The workshop will be led by artists Janet Austin and Emily Moorehead-Wallace. Participation is free and open to all ages!
---
Interactive Art Exhibit and Free Little Art Gallery at Dandelion
1767 W Wilson Ave
Dandelion Therapeutic Art Center is an art therapy practice in the heart of Ravenswood. Their staff blends art, creativity and therapy for an active approach to healing. This weekend, Dandelion is hosting a gallery exhibit featuring life in 2002, including an interactive 20-year timeline. Guests will be invited to reflect and add their personal milestones. Other activities at Dandelion include a hands-on art project based on reflection, and the RAW debut of their new Free Little Art Gallery, stocked with Ravenswood-specific art!
---
Swordplay Classes and Demos at Forteza Fitness
4437 N Ravenswood Ave
Forteza Fitness is Chicago's only home study the martial arts of the medieval knight. For RAW, their team will present demonstrations, including handling of antique and replica swords. Forteza will also offer short, 30-minute classes to show off what they do—and why you'll love it!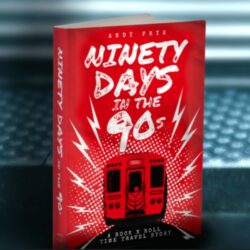 Meet 90 Days In The 90s Author Andy Frye at Cultivate by Forbidden Root
4710 N Ravenswood Ave
Visit Cultivate by Forbidden Root's taproom during RAW for a chance to meet local author Andy Frye. Andy recently published Ninety Days In The 90s, the "ultimate book about Chicago's music scene."
Ninety Days follows Darby Derrex, a nostalgic record store owner who discovers the CTA's mysterious "Grey Line" and time travels back to 1990s Chicago to pursue a life "do-over." She meets up with old friends, hits Lounge Ax for a few shows, and has a blast back in the '90s—and that's part of the problem. Ninety Days In The 90s is a great read for Chicago locals or anyone who loves music. Learn more about the book at 90daysinthe90s.com.
Andy Frye joins a pop-up at Cultivate that includes Chelsea Dubick, Derel Glass Studio, Erin Rossi Designs, Lucy's Artistic Walls and Murals, and Wolcott Studio.
---
Outdoor Dance Classes and Performances with The Hive
1761 W Berteau Ave
The Hive, a local dance studio at 4706 N Ravenswood Ave, is popping up all weekend in the RAW Beer Garden at Ravenswood and Berteau. Each day kicks off with free kids activities, followed by drop-in classes in a variety of styles and mid-day performances from The Colony, The Hive's competitive youth dance team.
Activity Schedule
11:00 AM -12:00 PM – Kids Activities
12:00-12:45 PM – Free Jazz Funk Class
1:00-1:45 PM – Free Ballet Class
2:00-2:30 PM – Free Specialty Dance Class
2:45 -3:30 PM – The Colony Dancers Youth Performance
3:45-4:30 PM – Free Contemporary Dance Class
5:00-5:45 PM – Free Hip Hop Class
---
End of Summer Sidewalk Sale at Hazel
1835 W Montrose Ave
Hazel is a retail boutique with two locations right off the Montrose Brown Line stop. Their gift and apparel stores are full of unique merchandise from all over the world, as well as some from right here in Chicago. They pride themselves on the fact that at their shops, everyone can find something they love or something for the people they love.
During RAW, Hazel will hold a big End of Summer Sidewalk Sale! You'll find apparel, accessories, shoes, jewelry, housewares and more—all marked WAY down.
---
Dance Classes at Ballroom College
4011 N Ravenswood Ave
Ballroom College is a new-to-Ravenswood dance school offering recreational lessons and an advanced teaching program. Stop by during RAW and participate in free, drop-in Ballroom and Latin dance lessons!
---
For more festival information and to plan your weekend, visit the Official RAW webpage.
Ravenswood ArtWalk: Tour of Arts & Industry
September 10 & 11, 11 AM – 6 PM
Free to Attend | $5-10 Suggested Donation
Enter at Ravenswood & Berteau