Love is in the air in Chicago! It may be hard to feel as temperatures dip to freezing, but it's there. Ravenswood businesses are feeling it as neighbors "shop small" heading into Valentine's Day. To make sure you don't miss anything, we've collected details about the Valentine's Day celebrations, specials, and gift ideas from around the neighborhood.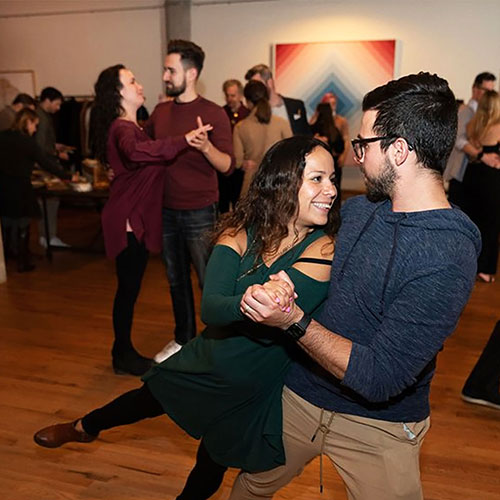 Whether you're looking to create something beautiful, enjoy something indulgent, or find an excuse to get closer, we've got you covered. Ravenswood small businesses are hosting a variety of unique, stimulating, and fun Valentine's Day events.
Events & Celebrations
2/7, Cocktail Class: Valentine's Drinks @ KOVAL Distillery
2/10, Valentine's Weekend Party @ KOVAL Distillery
2/10, Build-a-Bouquet Blossom Bar @ KOVAL Distillery
2/10, Valentine's Date Night Throwdown @ Lillstreet Art Center
2/10, Valentine Flower Arranging Workshop @ JASC
2/11, Espinas Flower Bouquet Pop-Up @ Bon Femmes
2/12, Valentine's Pairing Tour @ KOVAL Distillery
2/13, Valentine's Dance Class: Private Lessons @ Ballroom College
2/14, Valentine's Dance Class: Group Lessons @ Ballroom College
Sips & Sweets – Beer and Chocolate Pairing @ Begyle Brewing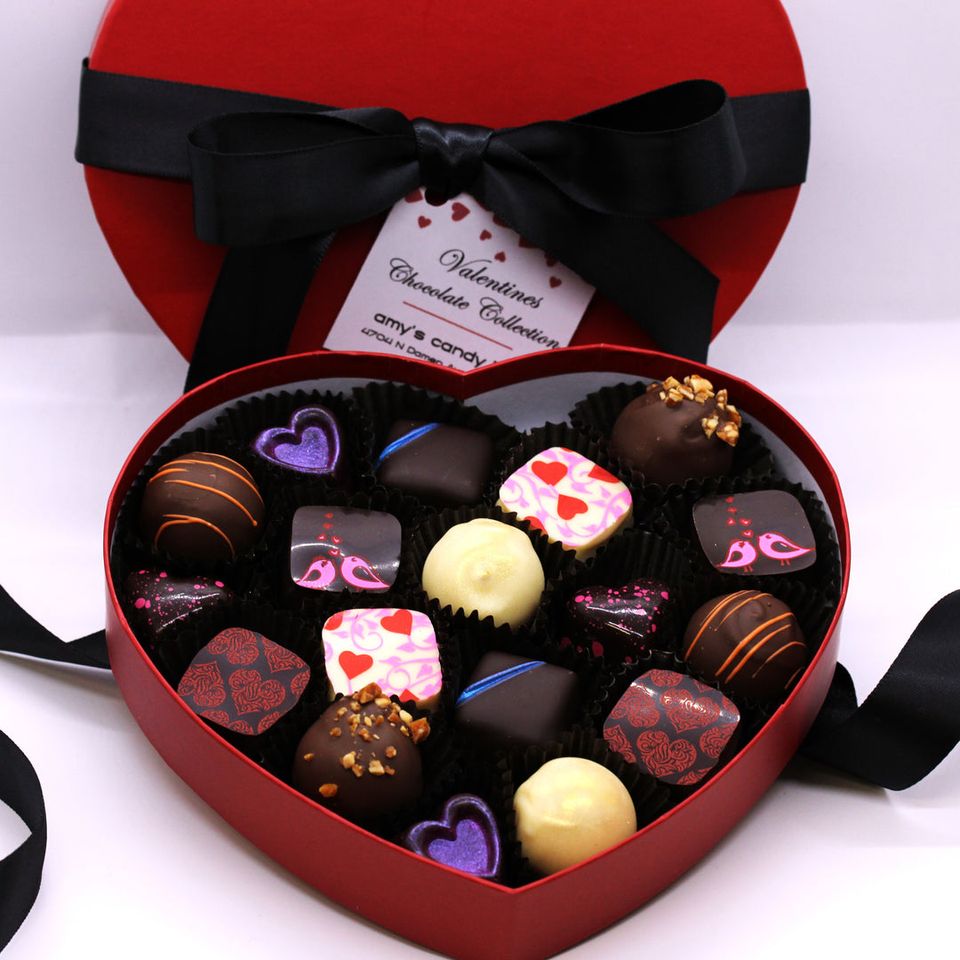 No matter your flavor, there's something bound to delight your tastebuds in Ravenswood. Find the perfect food for a cozy night in, a romantic night out, or a sweet treat for the end of the night.
Eats & Sweets
Heart-Shaped Pizzas from Chicago's Pizza
Give a "Box of Love" from Lucila's Alfajores
2023 Valentine's Day Chocolate Collection from Amy's Candy Bar
Enjoy a Romantic Night Out at a Romantic Local Restaurant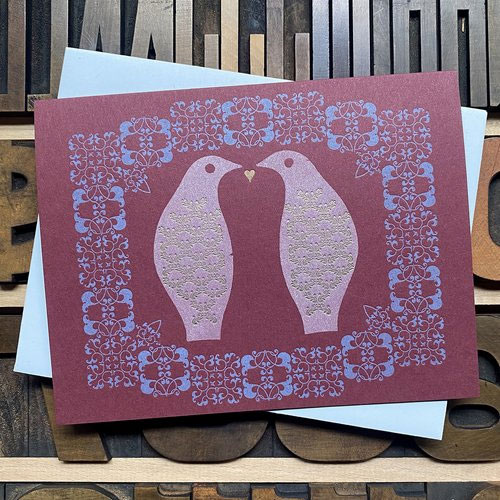 Looking for a truly special gift? Something you can't find anywhere else? Ravenswood's shops and boutiques have a vibrant selection of Valentine's Day cards, work from local artists, and hundreds of handmade gifts. From cute and quirky to
Gift Ideas
Traditionally Crafted Valentine's Day Cards from Starshaped Press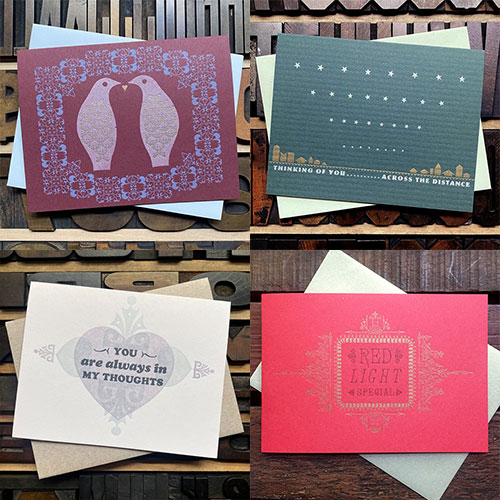 Looking for a thoughtful or funny card for your Valentine? Skip sifting through last year's Hallmark reprints at Target and go retro with a handmade card from Starshaped Press (4636 N Ravenswood Ave). Starshaped is a traditional letterpress that's operated in the heart of the Ravenswood Industrial Corridor for over 20 years!
Online shopping and local pick-up available. Explore the Starshaped collection at www.starshaped.com.
Gifts for Everyone at Hazel and Hazel Apparel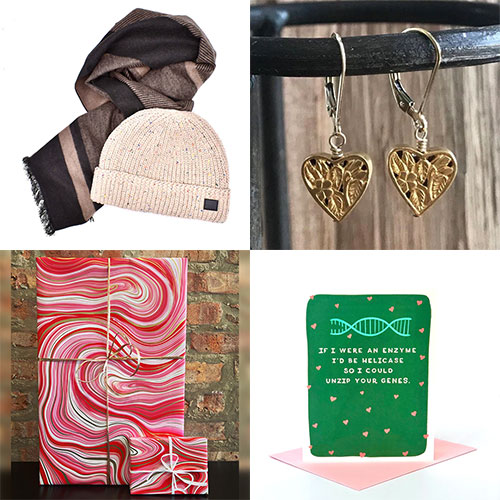 Located just step from one-another, Hazel (1835 W Montrose Ave) and Hazel Apparel (1825 W Montrose Ave) are your two-stop gifting destination. No matter the time of year, you'll find something special for the person on your mind (even if that person is you!). For Valentine's Day, you'll find an incredible selection and apparel and fashion, jewelry, home décor and fragrance, specialty and classic candies, a gift cards made by local artists.
A limited selection of items are available for online order, with a much larger variety available in-store. Complimentary gift wrapping is available on in-store purchases. Free shipping for online orders over $100. To learn more, visit www.hazelchicago.com.
Handcrafted Jewelry from Minerology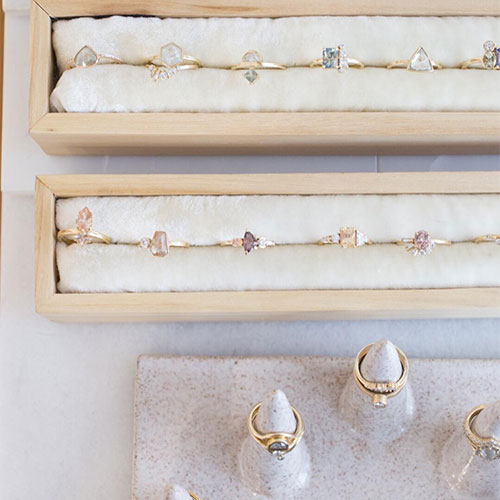 Mineralogy (1944 W Montrose Ave) offers a collection of limited edition and one-of-a-kind jewelry designed and crafted by Ravenswood metalsmith, Theresa Cowan. Inspired by an earth science class lecture on minerals, Theresa creates unusual statement and heirloom quality pieces that pay tribute to the beauty of natural gems and minerals. Her work makes an elegant and unique Valentine's Day gift. Shop online at www.mineralogydesign.com.
---
Other Posts You May Enjoy