The Ravenswood Neighbors Association (RNA) is bringing back Ravenswood Light Up Nights for it's second year on December 17-19, 2021! Residents and businesses are invited to kick off the holiday season in our community by lighting up their corner of it. The result is a magical weekend walking tour of lights, decorations, and seasonally-inspired creativity.
This year, the Greater Ravenswood Chamber of Commerce (GRCC) is excited to be a sponsor of Light Up Nights. As a part of our efforts to support the festivities, we've helped to increase local business participation. We're proud to share the following Light Up Nights specials and offers from our members.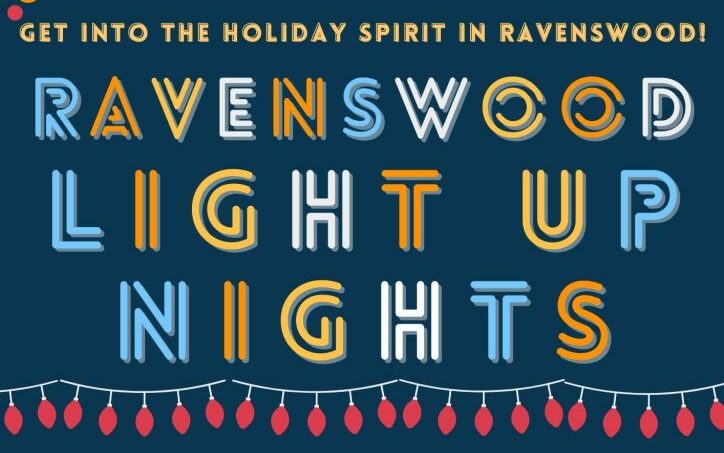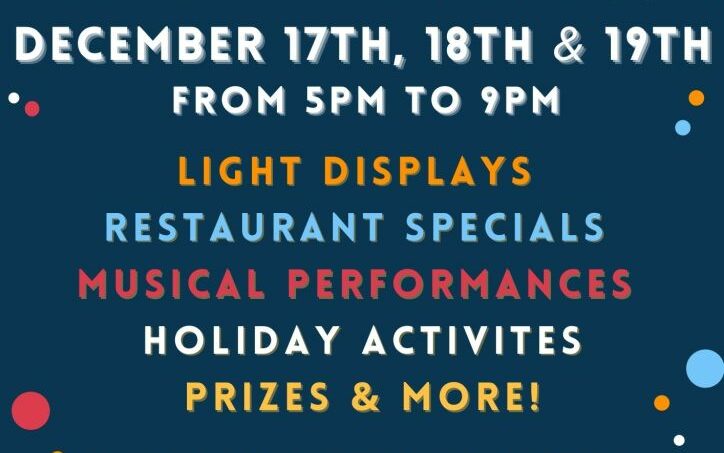 GRCC Member Light Up Nights Participants
All Saints Episcopal Church – 4550 N Hermitage

Host of the "GLOWpening Ceremony" and RNA Welcome Table on Friday, 12/17
Location of the "Light the Way Forward" community art project.
Half of the proceeds from Ravenswood Light Up Nights activities will be donated to Ravenswood Community Services, the food pantry and community kitchen located inside All Saints.
Begyle Brewing Co. – 1800 W Cuyler Ave

Begyle has gone all out with the patio decor as is competing for "Best Decked Business!" Stop by to enjoy the lights along with a special happy hour menu for the weekend.
The Biscuit Man – 1612 W Irving Park Rd

Winners of the "Best Decked" decorating competition will each win a gift pack of biscuits and jam from The Biscuit Man.
Hazel – 1835 W Montrose Ave

Hazel's amazing gift shop will extend their hours and stay open for holiday shopping until 8pm all weekend long. They're also throwing their fashionable hat in the ring for "Best Decked Business!"
Jersey Mike's Subs – 1732 W Lawrence Ave

Get a free bag of chips and a drink with the purchase of a sandwich when you mention Ravenswood Light Up Nights.
KOVAL Distillery – 4241 N Ravenswood Ave

KOVAL is decorated for Light Up Nights and offering free samples of a Cranberry Gin cocktail in their gift store. There will also be special cozy cocktails on the menu in their new Tasting Room just for the occasion!
The Ravenswood Tavern – 1829 W Montrose Ave

This welcoming, dog-friendly neighborhood tavern is competed for "Best Decked Business" and offering a Maple Barrel Aged Old Fashion special for the weekend.
Redline VR – 4702 N Ravenswood Ave

Host of the Light Up Nights Social & Best Decked Award Ceremony on Sunday, 12/19 (6-8pm)

Grab a drink, socialize with neighbors, enjoy snacks from local businesses, and celebrate with the winners of the "Best Decked" competition. This event is free and open to the public. Awards will be announced at 7pm. Holiday inspired dress is suggested, but not required.

Redline is open all three evenings with a great selection of beer specials for Light Up Nights!
River Valley Market – 1820 W Wilson Ave

Host of the RNA's Welcome Table on Sunday, 12/18
River Valley is extending their hours and staying open late for your holiday shopping convenience. Stop by for complimentary hot chocolate and coffee during Light Up Nights!
Spoken Cafe – 1812 W Montrose Ave

Host of the RNA's Welcome Table on Sunday, 12/19
Stop by on Sunday to visit the Light Up Nights Welcome Table and enjoy a special holiday menu from Spoken feat. Crispy Louisiana Boudin balls w/ remoulade dipping sauce, plum pastries, warm sea salt chocolate chip cookies, Oh Snap Mochas (a delicious spicy gingerbread mocha) and free hot cocoa for kids.
Find more information about the event, including a map of all the participating homes and small businesses, at myravenswoodneighbors.org/rlun21.
---
Other Posts You May Enjoy: