Ever popular, Patty the Elf is back in Ravenswood for the holidays– this time with Moshe the Mensch!
If you're not familiar, the Elf on the Shelf is an elf doll who moves around the house leading up to Christmas, watching to see if kids have been good and reporting back to Santa. The Mensch on a Bench is an even newer Hanukkah tradition, designed to bring families together. While teaching the importance of the holiday, Moshe the Mensch inspires others to be honorable Mensches during the holidays. This year, Patty and Moshe are on display in the windows of shops and restaurants around Ravenswood! 
How to Enter
From November 28th to December 15th, Patty and Moshe will be displayed at a variety of different Ravenswood businesses. To play along, first find the dolls! Then, scan their QR code and fill out the brief online form. And that's it! Each scan earns you one entry into our Grand Prize Drawing for a Ravenswood tote bag loaded with gifts and gift cards to local shops and restaurants! There will be one drawing for Patty sightings, and one drawing for Moshe sightings. Moshe will be visiting windows from November 28th to December 6th, and Patty will take his place from December 7th to December 15th.
Ravenswood Winter Holiday Scavenger Hunt Official Rules + Details
Patty and Moshe will be hanging out at 10 businesses between Sunday, November 28, 2021 and Wednesday, December 15, 2011 (though we reserve the right to add additional businesses and dates).
Individuals may submit one entry form per doll found at each participating location. All valid submissions will be entered into our Prize Drawing. Individuals may submit no more than 20 total entry forms.
One Grand Prize Winner, two Patty Prize Winners, and 5 Moshe Prize Winners will be randomly selected on Monday, December 20, 2021 and will be notified by email that day. Failure to respond within 72 hours to the notification message will result in forfeiture of the prize, and the Greater Ravenswood Chamber of Commerce will award the prize to an alternate winner selected by random drawing from among the remaining eligible entries.
The Ravenswood Winter Holiday Scavenger Hunt drawing is open to legal U.S. residents age 18 or older. All federal, state and local laws apply. Void where prohibited. No purchase necessary. Odds of winning the prize depend on the number of eligible entries. No prize substitution or cash redemption allowed by the winner. Prizes are not transferable.
Grand Prize includes: Limited edition Ravenswood canvas tote bag, four $15 gift cards to Ravenswood small businesses, a Malt Row hat, a Malt Row can koozie, and a Malt Row puzzle by Bowmanville artist Jessica Licklider, plus gifts from participating local shops and restaurants.
Patty Prizes include: Limited edition Ravenswood canvas shopping bag, two $15 gift cards to Ravenswood small businesses, a Malt Row hat, a Malt Row can koozie
Moshe Prize Include: Limited edition Ravenswood canvas shopping bag, a $25 gift card to a Ravenswood small business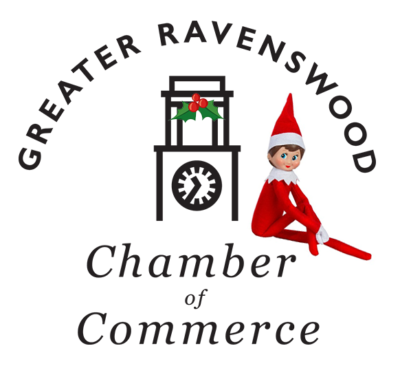 Other Posts You May Enjoy