Usually we use out spotlights to tell you about one our favorite businesses or organizations from around the neighborhood. We've got a slight twist today, as we get to introduce you to a new neighbor that we're extremely excited to welcome to Damen Avenue: Boulevard Veterinary Ravenswood! This will be the third location for BLVD Vet, who has established offices in Logan Square and River North.
We had a chance to get to know owner and founder Dr. Dylan Frederickson, who lives here in Ravenswood with his wife Kelly and their son.
Boulevard Veterinary Logan Square was founded in 2015. What inspired you to start your own business?
First, growing up on a dairy farm in Wisconsin and seeing the impact a good veterinarian can have on animals and their human families. Then, having spent many years in Chicago as an associate veterinarian and realizing that veterinary medicine, while filled with great people, was often stuck in the past in terms of outdated clinical facilities and poor use of technology. I believed with the right team we could do it better. "Vibrant and Clean Facilities" is our third Core Value and is one of the primary ways in which we differentiate ourselves to the public.
Two and years after getting started, you opened your second location in River North. Now, according to a recent post on your blog, together, these practices serve over 10,000 clients in Chicago. What about BLVD Vet are you most proud of?
Our team of over 35 talented members who not only love animals, but act with professionalism and are passionate about our field. Our second Core Values is "Lifetime Professional Development". We want veterinary medicine to be a long term career option at every position within our business and we invest in advanced training and certifications to reinforce that belief.
What's been your been your biggest challenge so far?
Our first Core Value is "Best Patient and Client Care". Delivering the gold standard in care to every patient at every appointment is definitely the biggest operational challenge, but it is one we strive for daily.
Is there anything people find surprising to learn about your business?
That 80% of graduating veterinarians are female. Women are absolutely vital to the veterinary industry.
What do you consider the "biggest win" in your business's history?
Coming into this summer with two growing businesses and a third about to open, I knew we would need to expand quickly and hire multiple veterinarians in a very competitive hiring environment – veterinarians are in short supply – without sacrificing anything in culture and quality. Being able to use my personal network as a DVM to hire 4 excellent, talented local veterinarians this summer was a major coup for BLVD, setting us up for continued success.
What has you excited about this new location in Ravenswood?
Being able to walk to work down an idyllic tree-lined street.
That's right, we learned recently you were a local. What are some of your favorite spots in the neighborhood?
We love 4 Legs just down the street for pet food and supplies and Urban Pooch for grooming. I'm also a big fan of Amy's Candy Bar, Arroy Thai, Spiteful Brewing, Half Acre, XOchimilco and The Warbler.
What would you like to see happen in Ravenswood over the next ten years?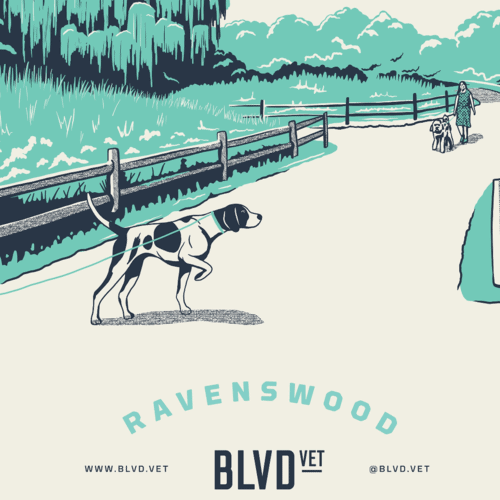 I'd love to see the business corridor on Damen Ave from Montrose to Foster continue to fill in with good long term business tenants, as well as on Lawrence Ave. from Ravenswood to Western. I'd like to see greater housing density in areas where it's appropriate, such as close to transit. This will help improve the affordability and diversity of the neighborhood while benefiting local businesses like ours.
How do you and the BLVD team connect with the communities you work in?
Boulevard Veterinary is a proud Chicago Rescue Partner. In keeping with our Core Value of Dedication to Community, we provide assistance to 501c3 rescues all over the city not only through volunteering, donations and discounts on our services, but through our team led BLVD Rescue Committee.
The mission for our Rescue Committee is to enhance the lives of animals and promote animal welfare by engaging and collaborating with rescue organizations within our communities.
---
For more on BLVD Vet, visit www.blvd.vet and follow them on Instagram and Facebook.
Boulevard Veterinary Ravenswood
4646 N Damen Ave
Chicago, IL 60625
Hours
M, Tu, Th, F 8:00 am – 6:00 pm
Sat 8:00 am – 4:00 pm
W, Sun Closed
Related Links