Connect your business to one of Chicago's hottest neighborhoods and one of the Midwest's premiere craft beverage destinations! The Ravenswood Industrial Corridor and the surrounding area is home to some of the city's most creative and award-winning craft breweries, along with its first post-prohibition distillery. In 2016, the Greater Ravenswood Chamber of Commerce worked with this community to establish "Malt Row", officially recognizing Ravenswood as Chicago's most diverse craft beer destination.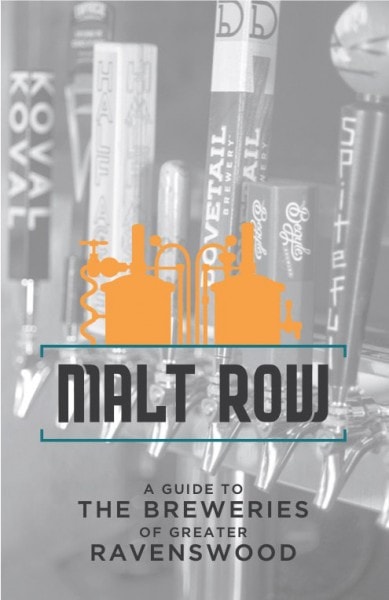 In advance of Illinois Craft Beer Week, GRCC is planning to release an updated Malt Row guidebook! These popular guides includes a map of Ravenswood and Bowmanville that highlights nearby breweries, taprooms, restaurants, and retail. Since its debut in 2016, the Malt Row guide has encouraged thousands of neighbors and visitors alike to explore our community and its small businesses.
For Malt Row's fifth anniversary, we're printing 10,000 copies of the updated guide, loaded with brewery facts, neighborhood history, restaurant recommendations, nearby retail, and promotions for local businesses. Copies will be distributed to our breweries and distilleries, cafes, bars, restaurants, festivals and special events, AirBnBs, rooms at the Roscoe Village Guest House, and select hotels.
Malt Row Guidebook Ad Options
We have a limited amount of space for restaurant listings (included on the map), retail listings, and for businesses to advertise to our readers.
Available Ad Sizes
$950 – Back Cover – 5.5″ x 8.5″ full-color ad (SOLD OUT)
$500 – Full Interior Page – 5.5″ x 8.5″ full-color ad
$300 – Half Page – 5.5″ x 4.25′ full color ad
To ensure quality reproduction, all advertisements must be delivered as high resolution PDF files (300 dpi at final print size). All color images and layouts must be CMYK mode.
Restaurant Listings
$75 – Restaurant Listing (GRCC Member Discount)
$200 – Restaurant Listing
Retail Listings
$50 – Retail Listing (Only available to GRCC Members)
Click the button above to submit your request for ad or listing space. We will quickly review your application and follow up. Upon approval, you'll receive an invoice via email. Payment must be made by Friday, April 8 2022 to guarantee inclusion in the guide. Please refer questions to gene@ravenswoodchicago.org.
---
More Opportunities to Promote Your Business