Love is in the air in Chicago! It may be hard to feel as we're pummeled with snow, but it's there. Ravenswood businesses are feeling it as neighbors "shop small" heading into Valentine's Day. To make sure you don't miss anything, we've collected details about the Valentine's Day celebrations, specials, and gift ideas from around the neighborhood.
Unique Valentines from Local Artists
Looking for a thoughtful or funny card for your Valentine? There are plenty of Ravenswood gift shops where you can avoid sifting through last year's Hallmark reprints at Target. You can even get retro with a handmade card from Starshaped Press (4636 N Ravenswood Ave). Starshaped is a traditional letterpress that's operated in the heart of the Ravenswood Industrial Corridor for over 20 years!
Shop original cards from other Chicago artists, as well as hundreds of great gifts, at stores like Bon Femmes (4917 N Damen Ave), Hazel (1835 W Montrose Ave) Neighborly (4710 N Lincoln Ave), and Ravensgoods (4703 N Damen Ave).
Valentine's Day Events & Celebrations
2/11, Sip & Script: Modern Calligraphy at Indigo & Violet Studio
Join Sip & Script at Indigo & Violet Studio to kick-off your Valentines day with sparkles and pretty lettering! Whether you're a stationery nerd, DIY Bride-to-be, or looking for a fun time out with friends, in this workshop you'll get an intro to modern calligraphy. Use a pointed dip pen and ink to add special lettered details to all your valentines, stationery and more. The perfect crafty evening out with your best gals! 7pm, 1411 W Irving Park Rd, $70 More Info
2/12, Hilary's Cookies Valentine's Outdoor Pop-Up
Hilary's Cookies is here for your last minute Valentine's sweets needs! Their popular weekly outdoor pop-up will feature special White Chocolate Strawberry Drizzle Brownies, Raspberry Linzers, and Blueberry Crumb Cakes. This week's scone flavors are Lemon Blueberry and Asiago Basil. And don't worry, there'll be lots of Hilary's famous, delicious cookies! 11am-2pm, 4917 N Lincoln Ave More Info
2/12, Anti-Valentine's Day "Swipe Left" Party at Urban Brew Labs – CANCELLED
Play Valentine's Day Plinko for anti-love-themed prizes! Whether you're finding yourself going stag for this big date night or want to stop by with your date for a low key evening, let UBL entertain you! With your first beer purchase, you'll receive a ticket to have a shot at their wood pallet Plinko board. 7-10pm, 5121 N Ravenswood Ave More Info
2/12, Stitched Valentine Workshop at Indigo & Violet Studio
This new Indigo & Violet workshop will teach attendees a festive stitched heart design perfect for handmade gifts. Follow the instructor as they use a camera and projector to demonstrate techniques for creating your own textured valentine. All tools and materials are included. No sewing or embroidery experience needed. Bring your own festive drinks or snacks to enjoy while you craft! 1-2:30pm, 1411 W Irving Park Rd, $50 More Info
2/12 & 2/13, Chicago Artisan Market at Artifact Events
Make a date with 100 of Chicago's top artisans in food, fashion, home goods and art. Shop small, local, and sustainable goods from artisans who pour their passions into creating one-of-a-kind items. Courtesy of Hilary's Cookies, Ravenswood blog readers can use promo code LOVELOCAL for two FREE general admission tickets. 10am-4pm, 4325 N Ravenswood Ave More Info
2/13, Flower Crowns for Galentine's Day Workshop at KOVAL Distillery
Join Vivant Gardening and Linda Laake Designs for a flower crown workshop in the distillery. Get the crew together for an unforgettable evening of Instagram-worthy crafts. With cocktails in hand, you and your entourage will use a selection of bright floral blossoms to make crowns that reflect your individual style. Snap selfies in front of a themed background in KOVAL's tasting room to finish off this relaxing and memorable occasion. No experience required, instruction and examples provided. 7pm, 4241 N Ravenswood Ave, $85 More Info
2/13, Valentine's Day Weekend Tour at KOVAL Distillery – SOLD OUT
Try something new a Valentine's Day weekend tour designed to delight and excite your senses. Kick things off inside the distillery, where you'll get a behind-the-scenes look at KOVAL's innovative grain-to-bottle process while indulging your palate in a special selection of spirit samples paired with delicious bite-sized treats. From there, KOVAL's experts will teach you everything you need to know to make an easy, exciting signature cocktail to celebrate with at home! 5pm, 4241 N Ravenswood Ave, $12 More Info
2/13, Bikes Are For Lovers: Working Bikes Donation Drive at ATX Bodega
Stop by ATX and support Working Bikes with a bicycle donation! Working Bikes is an amazing local organization that gives donated bicycles new life by redistributing them as tools of empowerment in local and global communities. Since 1999 their work has enabled new life for 100,000 bicycles across the globe. 11am-4pm, 2301 W Foster Ave More Info
2/13, Valentine Watercolor Workshop at Indigo & Violet Studio
A watercolor workshop with a heart theme! Indigo & Violet instructors will use a camera and projector to demo small painting details to the group on a large scale. Get introduced to watercolor fundamentals – wet on dry, wet on wet techniques, mixing colors. After that, you'll paint geometric and floral heart designs. BYOB optional. 1-2:30pm, 1411 W Irving Park Rd, $50 More Info
Valentine's Day Eats & Sweets
2022 Valentine's Day Chocolate Collection from Amy's Candy Bar
Make your Valentine's Day one to remember by sharing Amy's Valentines Chocolate Collection with your special someone. The collection comes packaged in red gift box, tied off with a ribbon. Amy's chocolates are handcrafted in their Ravenswood kitchen. They make a perfect gift for everyone from sweethearts and grandparents to teachers and colleagues.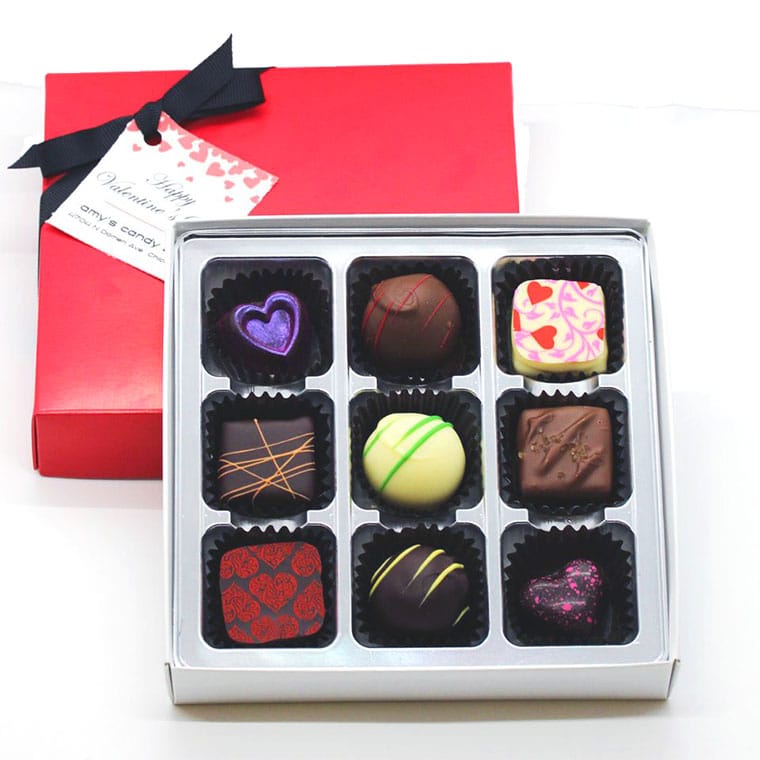 This year's collection includes one of each of the following flavors:
Stawberry Basil Truffle
Gingerbread Truffle
Salted Caramel Truffle
Hibiscus Cream
Lemon Mint Truffle
Cherry Brandy Cordial
Bergamot Truffle
Palet d'Or Truffle
Pistachio Cinnamon Truffle
Place your orders online at www.amyscandybar.com.
Heart-Shaped Pizza Season Is Here!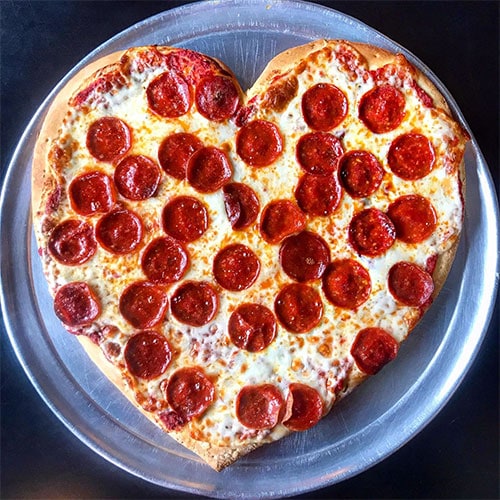 Whether it's a pumpkin for Halloween or a shamrock for St. Patrick's Day, holiday-themed pizzas from Chicago's Pizza (1919 W Montrose Ave)are a Ravenswood tradition. Their heart-shaped pie is always the most anticipated, perfect for Galentine's Day parties, family celebrations, solo splurges, couples, and throuples. To get yours, order a large thin-crust or stuffed pizza and select the "Make it heart-shaped" option. Available through February 14, 2022. Order online at www.chicagos-pizza.com.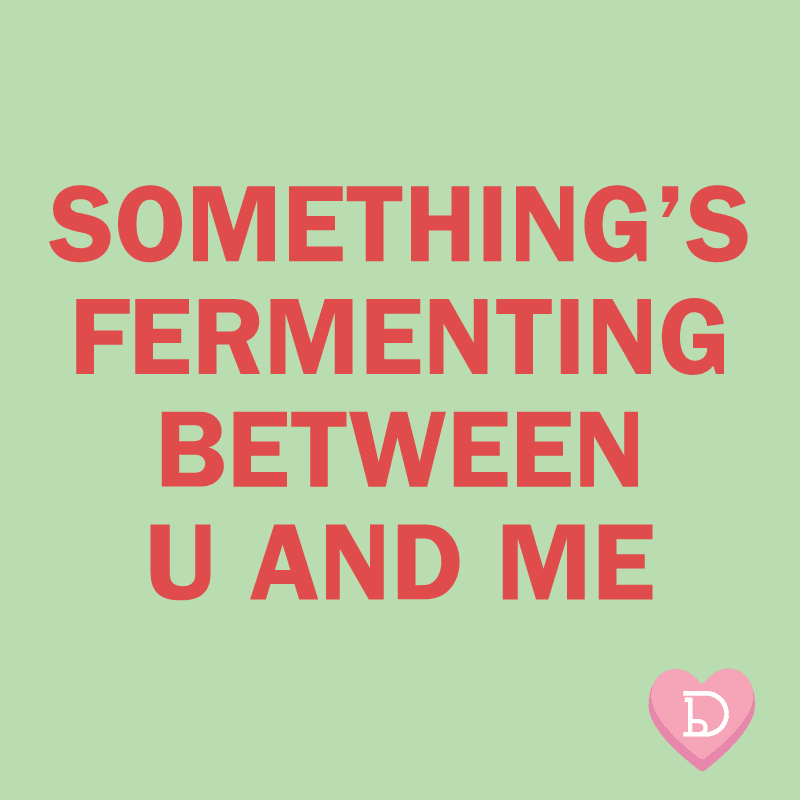 Dovetail Brewery's "Month of Love"
Visit Dovetail's taproom during the month of February to share your "Lovetail". The brewery will supply heart-shaped paper for you to write on and will display your Lovetail in the brewery when complete. Your tales of love will be shared with the public and the best story will win a prize! Dovetail will also have seasonal candies from Amy's Candy Bar and special tappings throughout the month.
Dovetail Brewery • 1800 W Belle Plaine Ave • dovetailbrewery.com
M-F: 12-10 PM • Sat: 12-11 PM • Sun: 1-7 PM
Give a "Box of Love" from Lucila's Alfajores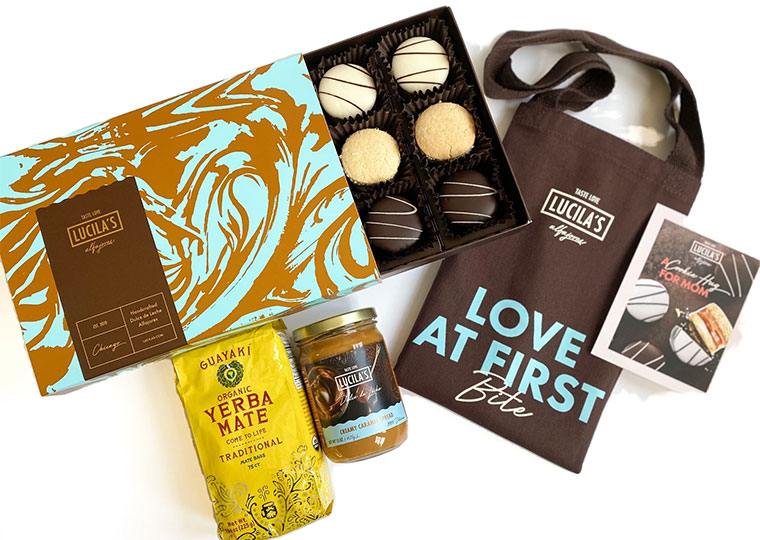 Leave the cheesy heart-shaped box of factory assembled chocolates for the kids. Ravenswood's favorite Lucila's Alfajores is offering a gift box of their decadent, handmade, dulce de leche-filled Argentine pastries. Covered in dark and white chocolate, these unique sweets are perfect for any loved one (and a wonderful way to treat yourself too!). Nationwide shipping and curbside pickup from their Ravenswood Avenue bakery are available. Shop their full collection and place your orders at www.lucilas.com.
---
Other Posts You May Enjoy: