Chicago has reopened, summer has arrived, and many of us are in desperate need of a good time. While things haven't completely returned to normal- we're getting there! At long last, many of our favorite neighborhood festivals, celebrations, and gatherings are on the horizon. Read on for the latest updates on the Ravenswood summer events slated to return in 2021.
Ravenswood Farmers Market


No spoiler alert needed here: the Ravenswood Farmers Market re-opened on June 16th and is operating every Wednesday from 4-7pm. Conveniently located between the Damen Brown Line and beautiful Winnemac Park, the market connects neighbors to local farmers, food producers, and each other. Guest vendors are popping up each week and live music has returned as well!
The market is anchored by Patyk Farms & Greenhouse, a staple since the market launched in 2016. Each week, John and Myra Patyk supply Ravenswood residents with farm-fresh vegetables, fruit, eggs, meat, houseplants, succulents, and more. Locals Hilary's Cookies and Tamales Express are the other original vendors and are responsible for the biggest lines each week. Hilary's offers (mostly vegan) bakery treats she once described as "so good you'll want to f*** them." Tamales Express don't typically work blue, but their mole amish chicken tamales are equally outrageous! (I'll be here all week)
Typically among the market's most popular features, children's games and activities have not yet resumed in full-force. It's hoped that later in the summer the bounce house will return, along with the science and art project booths. For more on the market, visit ravenswoodchicago.org/farmersmarket.
Malt Row on Damen Beer Stroll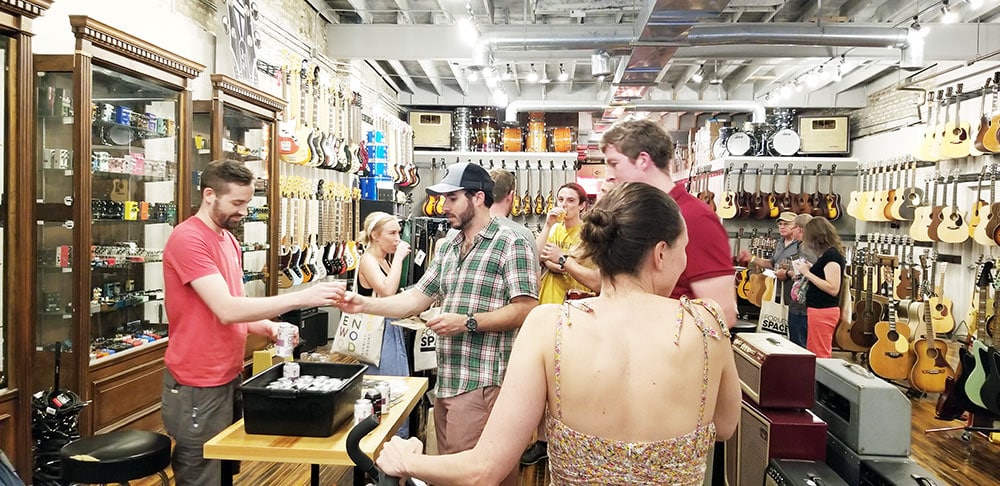 If you're ready to get reacquainted with Ravenswood, the Malt Row on Damen beer stroll is exactly what the doctor would order if they prescribed hops for 'the blues.' Local breweries are pairing with businesses along Damen to highlight the best of Ravenswood in one summer evening.
On July 28th, attendees get to taste a variety of beers and spirits while visiting an eclectic mix of stores and galleries. The list of folks pouring on behalf Malt Row includes Empirical Brewery, KOVAL Distillery, Begyle Brewing, and Urban Brew Labs. New this year, home brew supply store Gnome Brew will pop-up to pour tastings brewed using their 1-hour home kit.
Among the stops on the stroll, visitors can plan on checking out new businesses and old favorites. For many, this is will be an introduction to Bon Femmes, a boutique featuring art, home decor, and beauty products created by women. Guests can also stop by Noble Coyote, otherwise known as "that space by the train station with the cool art." It's a custom tattoo shop operated by Chicago artists Mike Ramos and Josh Classics.
Familiar faces include the recently expanded District furniture gallery and jewelry and gift shop Ravensgoods. Amy's Candy Bar is also back for the stroll, and just celebrated a 10 year anniversary earlier this month. More info is available on the Malt Row on Damen webpage.
Thirsty Ears Classical Music Festival
Chicago's only classical music street festival returns to Wilson Avenue this August! Access Contemporary Music booked a series of ensembles and soloists for the weekend, performing "music from Beethoven to Shostakovich to Reich and everything in between."
The lineup includes a special performance of ACM's Sound of Silent Film Festival at sundown on Saturday, August 14th. The program pairs locally composed scores with silent films from directors across the globe. It's nothing short of magical to enjoy under the stars in once of the most scenic sections of Ravenswood.
Thirsty Ears will also offer beer from Empirical, vendors, kid-friendly activities, food trucks and a closeout classical remix from Origin of Animal. For the latest, check out acmusic.org.
Bowmanville Summer Social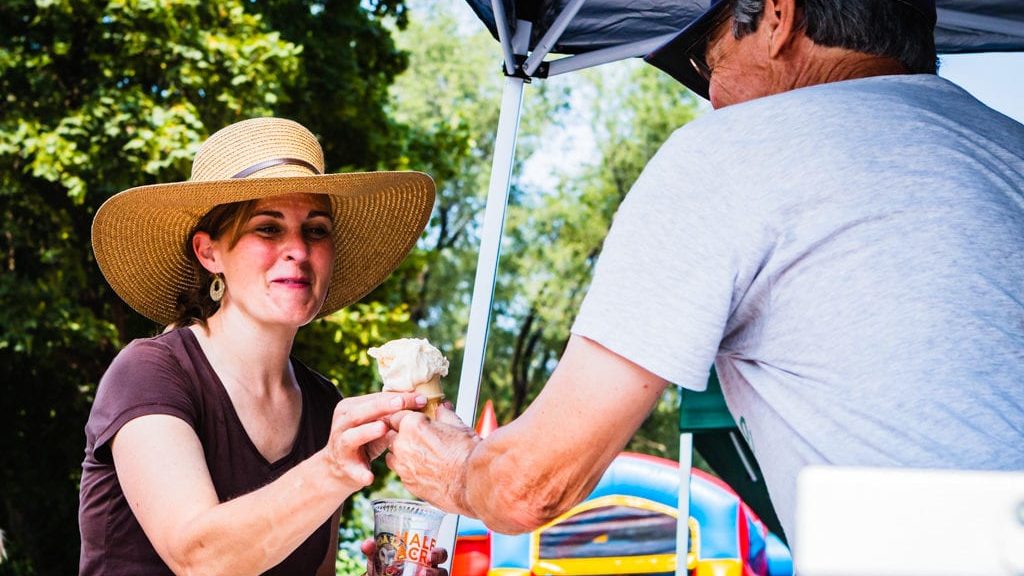 North of Foster, the Bowmanville Community Organization (BCO) announced they'll bring back the Bowmanville Summer Social on Saturday, August 21st. This street fest feels peacefully tucked away and encourages neighbors to gather for a day of fun and sun. Festivities typically include kids activities, live music, and food and sweets from local restaurants.
Located at the northern end of Malt Row, Bowmanville is home to several breweries– including next door neighbors Spiteful Brewing and Half Acre Beer. The duo frequently support BCO and their events, so it's safe to assume they'll be on-site pouring suds. Keep an eye on bcochicago.org, or just make sure you're signed up for our newsletter.
Ravenswood ArtWalk: Tour of Arts & Industry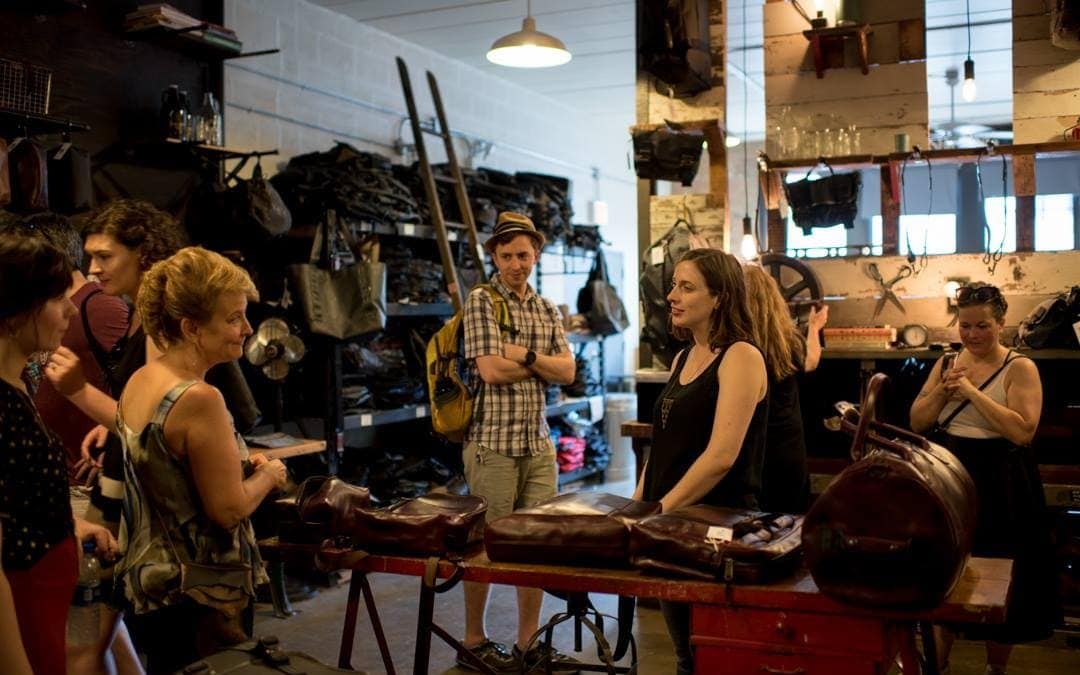 Last week was the big announcement, the Ravenswood ArtWalk: Tour of Arts & Industry returns on September 11th and 12th, 2021. This will be the festival's 19th year drawing visitors from across the Midwest to explore the historic Ravenswood Industrial Corridor. A combo studio crawl, industrial open house, and street fest, ArtWalk offers a behind-the-scenes look at one of Chicago's most diverse creative communities.
Stops will include returning participants like Lillstreet Art Center, DEFY Mfg., Manifold, KOVAL Distillery, Awakenings, and Chicago Photography Classes, as well as first-timers like Wonder City Studio and the Chicago School of Shoemaking & Leather Arts. Outdoors, it's anticipated that over 100 artists will show their work along Ravenswood Avenue. The street fest center of ArtWalk will also feature two stages of local live music, children's activities, food trucks, and an expanded Malt Row beer garden!
More participants and details will be announced over the coming weeks. Artists or businesses looking to participate should visit the ArtWalk webpage for details.
Ravenswood Summer Events Returning in 2022
Ravenswood On Tap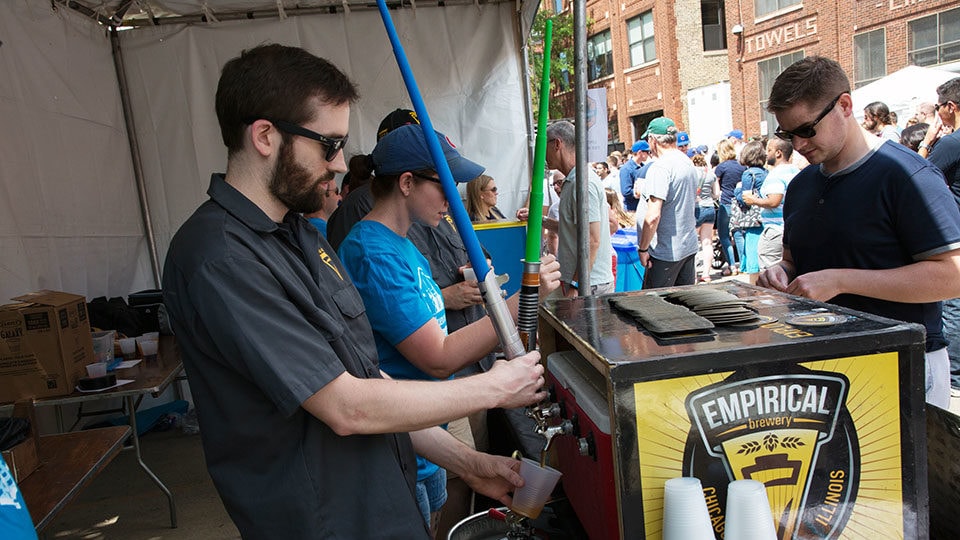 Due to the pandemic, GRCC and our partners are not able to plan and execute Ravenswood On Tap in 2021. However, the event blossomed in recent years, establishing itself as one of Chicago's most significant beer festivals and a celebration of Malt Row. While trends and gimmicks define many beer events, Ravenswood has developed a tradition that has resounded across Chicago.
When the event returns, it will be with some new faces. Band of Bohemia, the Michelin-starred culinary brewhouse on Ravenswood and Lawrence, closed for good in 2020. However, botanically-inspired brewery Forbidden Root is opening a new space called Cultivate in the former Band location later this summer. Additionally, Half Acre recently announced the sale of their Lincoln Avenue brewery and taproom to some old friends. Hop Butcher for the World will purchase their space and relocate from their Darien, IL brewery. Hop Butcher last called Malt Row home in 2015, when they worked out of a production brewery in Bowmanville. That space is currently occupied by Smylie Brothers Brewing and LaGrow Organic Beer Co.
In 2019, Ravenswood On Tap showcased 10+ local breweries, distilleries and wineries alongside two days of music from a diverse lineup of local bands and performers, a visit from the Planter's NUTmobile, outdoor axe-throwing, and local vendors. On Tap will return, bigger than ever, in June of 2022.
Bowmanville Garden Walk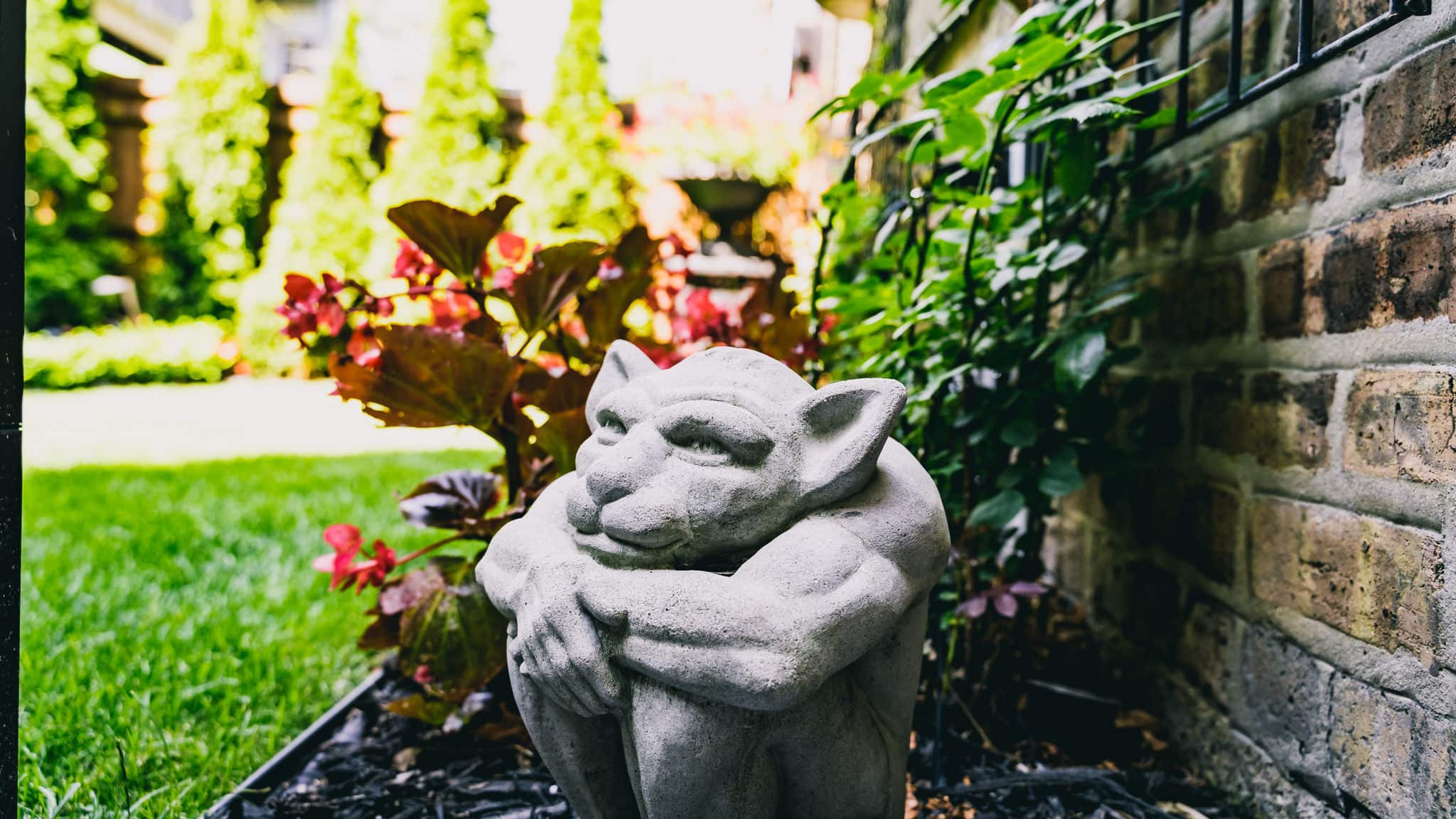 Perhaps Bowmanville's most popular event, the Bowmanville Garden Walk, has officially been postponed until summer 2022. BCO shared the following update on the annual tour: "Neighbors who have hosted their gardens or toured them as guests in the past know how much work goes into planning this event- a process that begins as much as four months in advance. Amidst a great deal of uncertainty around when the city would ease restrictions on gatherings this year, we would not this summer be able to offer the experience that neighbors, and visitors alike expect."
---
Other Posts You May Enjoy