Ravenswood's standing as a hub for creativity and craftsmanship makes it an annual destination for holiday shoppers. Boutique retail shops like Hazel, District, and Sailor are a gift-giving cheat code, sure to have something for the hardest-to-satisfy on your shopping list. Artisans Lillstreet Art Center, Starshaped Press, and the Chicago Class Collective have an incredible range of gifts available for all ages and price ranges. Foodies flock to Ravenswood from across the city this time of year, in search of pies from Bang Bang, seasonal jams and sauces from Spoken Cafe, and holiday treats from Hilary's Cookies. Have a craft beer nerd in your life? No doubt there's something they'll enjoy from the breweries on Malt Row, whether it's a locally-brewed Christmas ale or a new Dovetail Brewery beanie.
Our 2020 Ravenswood Holiday Gift Guide is a little different than previous years, but like our neighborhood, it's loaded with everything you need this holiday season.
2020 Rating Ornaments from Ravensgoods
Give this year the rating it deserves and chuckle every time you glance at your tree! The 2020 Rating Ornament ($10) makes a perfect stocking-stuffer, and a great gift set when paired with the other 2020-themed ornaments available from Ravensgoods.
Shop their online gift store at www.ravensgoods.com for those items, as well as handmade jewelry, soy candles, embroidered dish towels, greeting cards and more.
---
Gift Sets from The Book Cellar
For the holidays, the Book Cellar is offering a variety of gift sets ($75) that showcase some of their employees' shop favorites, wrapped and ready for giving. Sets include items that pair well with a good book, like wine, coffee, herb topiary, and handmade Chicago mugs. Visit www.bookcellarinc.com to explore their inventory.
---
Winter Aromatherapy from Hazel
Hazel's staff tells us that Frazier Fir Home Fragrances are a customer favorite holiday item year after year. The line includes a selection of candles, scent diffusers, soaps, and more. We recommenced the Frazier Fir Bundle ($58), which includes a 4 oz scent diffuser in a glass vessel with a decorative pine needle design, a matching 2 oz candle, and a decorative satchet that'll look great on your tree, in your car, or as a gift topper.
For the holidays, Hazel is offering free shipping on orders of $75 or more. Find details and shop online at wwww.hazelchicago.com.
---
Insidious Jr. Sling Bag from DEFY
Located in the historic Ravenswood Industrial Corridor, DEFY Mfg. has gained fans across the world who seek out their expertly-crafted, handmade bags and accessories.
New to their lineup is the Insidious Jr. Sling Bag ($198), made from durable X-Pac™ composite fabric. The material is perfect for bags because it's lightweight, waterproof, UV resistant, and has solid tear, puncture, and abrasion resistance. Insidious Jr. is the quintessential 'Daddy Diaper' bag and perfect for cyclers, bikers, and festival bros alike.
Check out DEFY's full-line of bags and accessories at www.defybags.com.
---
A Salon Experience at Ravenswood Nail Party
Ravenswood Nail Party has grown to be a destination Nail Salon in Chicago, offering an extensive selection of services to choose from. Treat yourself or a friend to a manicure, pedicure, or both with gift certificates good for future appointments. Each $50 purchase comes with a "Beautiful You" face mask. For details and booking, visit www.ravenswoodnailparty.com.
---
Cranberry Gin Liqueur from KOVAL Distillery
Located along Malt Row, KOVAL creates a memorable line of whiskey, gin, and specialty spirits using unique locally-sourced grains, signature "heart cut" techniques, and only the absolute best quality distillate. As one of the largest independent and woman-owned craft distilleries in the US, KOVAL is frequently awarded internationally for its bright flavors and eye for design.
Our go-to around the holidays is KOVAL's Cranberry Gin Liqueur ($30), a unique spirit that's delicious alone and sublime in cocktails. A blend of fruit-forward and bittersweet flavors and the crisp, gin botanicals make this a perfect pairing for holiday meals. All KOVAL products are available for online order and local pickup at www.koval-distillery.com.
---
Holiday Dog Toys & Treats from Urban Pooch Canine Life Center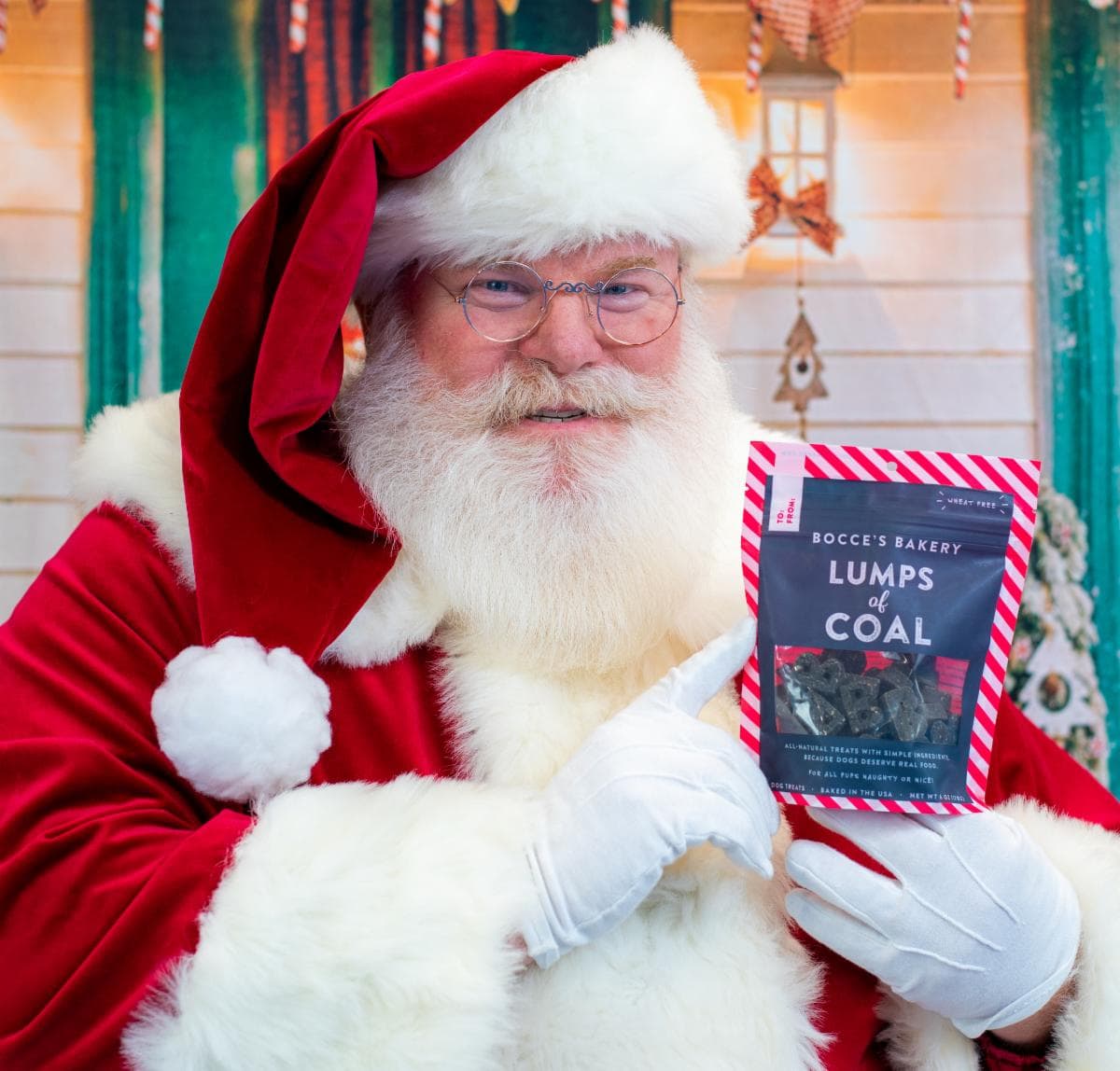 Urban Pooch is a state-of-the-art facility designed to support canine health and wellness, while increasing the bond between human and pup. Their large, colorful retail store carries an extensive line of food, toys, treats, and just about anything else else a dog-owner could ask for.
Co-founders Ed Kaczmarek and Daniel Gaughan always go all-out for the holidays, hosting Santa photos for pets and their families, sponsoring trolleys for Small Business Saturday, and organizing a slew of fun promotions and sales. This year they've also helped out by tapping their in-house experts to create the Urban Pooch 2020 Top Ten Gift List. Our favorite picks from their favorite picks are the Lumps of Coal Soft & Chewy Treats from Bocce's Bakery ($6.50) and the Christmas Beach Santa Toy (small $15, large $23), which we chose mostly to share a photo of this adorable pooch!
Learn more about all of the products and services Urban Pooch has to offer at www.urbanpooch.com.
---
Shelly's Freeze Inspired Puzzle from Emily Rapport
Ice cream lovers across Chicago were crushed when Shelly's Freeze closed their doors. Eat Paint Studio, the storefront gallery and workspace of artist Emily Rapport, is just a block away from where Shelly's operated until 2019. Indulge in some calorie-free nostalgia as you recreate Emily's oil painting tribune to the beloved ice cream destination, available for a limited time as a 500 piece puzzle ($39.99). Order yours at the Ravenswood Store.
---
Classes & Artwork from Lillstreet Art Center
Lillstreet Art Center is one of the oldest co-ops in Chicago and its facilities include classrooms for arts education, a gallery, an artist residency program, studio spaces, and a community outreach program.
This holiday give the gift of creativity with Lillstreet gift cards which are available for $50, $100, $180 (the price of an average 5-week class), and $340 (the price of an average 10-week class). Gift certificates can be used for classes, workshops, gallery purchases and tools and materials. Shop gift cards, classes, and work from local artists and www.lillstreet.com.
---
Tickets to See "It's A Wonderful Life" from American Blues Theater
One of Chicago's longest-running Christmas traditions, American Blues Theater is putting on their annual performance of "It's A Wonderful Life: Live in Chicago." For over 19 years, the acclaimed, Ravenswood-based theater company has treated audiences to a retelling of the Frank Capra classic. Performed in the style of a 1940s radio broadcast, the show is ripe for a virtual adaptation. Purchase tickets ($25-55) at www.americanbluestheater.com.
---
30% Off Music Lessons from ACM School of Music
Instructors at Ravenswood's esteemed ACM School of Music emphasize teaching creativity alongside traditional note reading. They incorporate music theory into the lessons so students (kids and adults alike) have a solid understanding of the building blocks of music. Want to start a friend on a musical journey? Give them an ACM Gift Certificate for 1-month lessons in in any instrument (piano, guitar, violin, cello, or voice). Gift certificates are 30% of the holidays and can be purchased at www.acmusic.org.
---
Jams and Sauces from Spoken Café
A true Ravenswood institution, Spoken is a warm, relaxed café serving breakfast and lunch fare with Acadian Cajun respects, plus caffeinated drinks, baked goods, and housemade goods.
Spoken's line of house-made jams, sauces, and pickles ($10-12) are budget-friendly and offer a little something for everyone. From Peach Bourbon BBQ Sauce and Gin & Juice Pickles made with KOVAL spirits, to "Chicago Dog" Relish and Apricot Chipotle Jam, the variety of colors and flavors is dizzying. All items can be shipped, so you can send your friends the tastes of summer all winter-long. Peruse the menu and place your orders at www.shop.spokenchicago.com.
---
A Decadent Gift Box from Lucila's Alfajores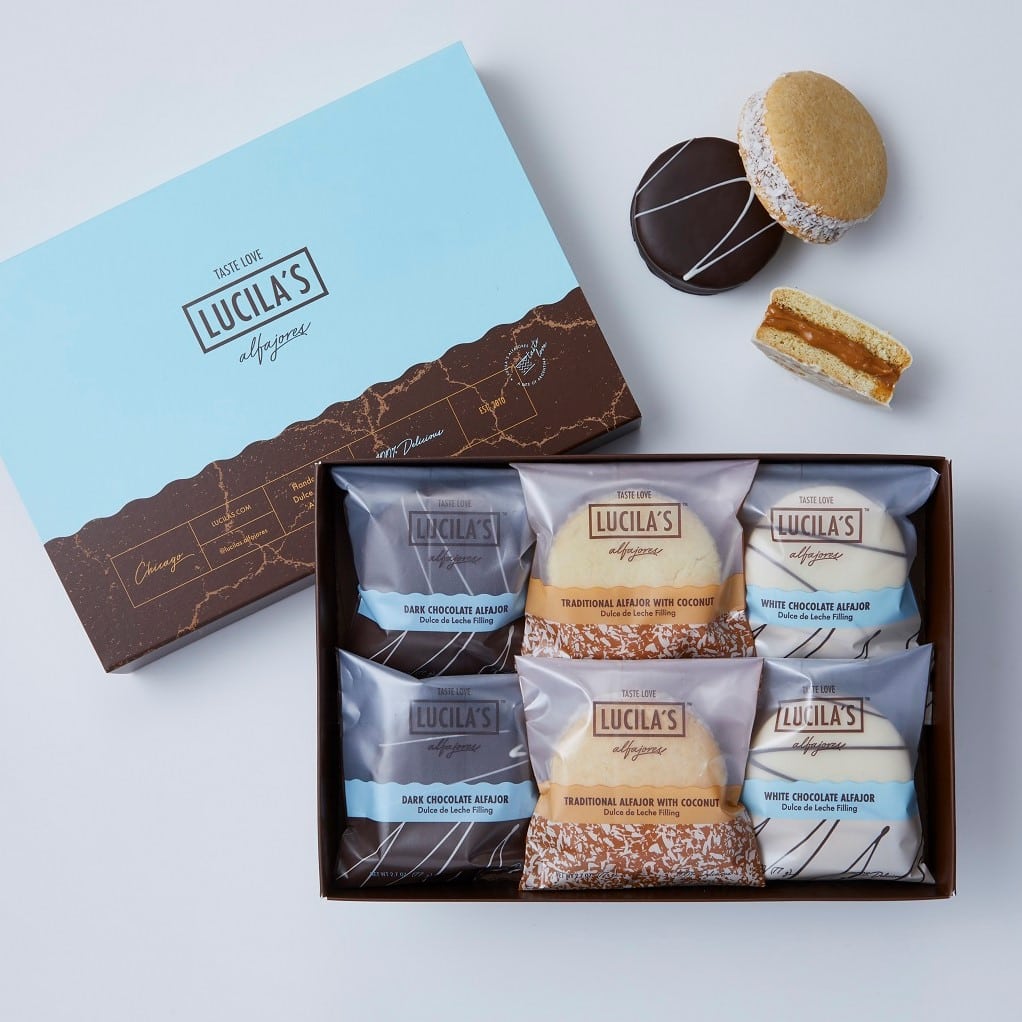 Lucila's authentic recipe of melt-in-your-mouth Alfajores will transport you to her native Argentina. Two crumbly cookies sandwich rich dulce de leche caramel, and are then coated in dark chocolate, white chocolate, or coconut.
Lucila's "Classic Trio" six-pack ($22) always make for a great holiday gift, whether you're shopping for a loved one, participating in a grab bag, or looking for a nice corporate gift. A variety of gift sets and products can be ordered directly from www.lucilas.com.
---
Fire Roasted Bloody Mary Mix from River Valley Kitchens
This isn't your typical store-bought bloody mix! Every bottle of RVK Bloody Mary Mix ($14) boasts 5 pounds of chemical-free heirloom tomatoes. Zesty and delicious with a mild amount of heat, it's ready for mixing with your favorite vodka– or a beer for a twist on a classic Michelada. Order online for pickup or local delivery at River Valley Farmer's Table's online shop.
---
Midwest Treats Gift Box from Neighborly
Treat your way around the Midwest with sweets from 5 different states! Neighborly's Midwest Treats Gift Box ($55) includes McCall's Classic Toffee from here in Chicago, plus Snowballs Cinnamon and White Chocolate Carmel Corn from South Bend IN, Candied Pecans from Madison WI, jam or Apple Butter from Grand Rapids MI, and Annie B's Assorted Caramels from Mahtomedi MN.
For more home goods, gifts, and artwork that are handmade, fair trade, or eco-friendly, visit www.neighborlyshop.com.
---
Holiday Cookie Gift Packs from Hillary's Cookies
Shop farmer's market favorites and holiday treats from Hilary's Cookies during a weekly tent-sale in front of their bakery at 4917 N Lincoln Ave. Looking for a quick and easy gift? Hilary is arranging $10 cookie boxes packed with seasonal flavors. Pickup is available during these Saturday pop-ups, from 11 am to 3pm through December 19th. For the latest, check out Hillary's Cookies on Facebook.
---
Antipasto Gift Basket from Tuscan Hen Market
Everything you need for an antipasto board, right in one basket! This set from Tuscan Hen Market includes Sopressata Salami, Pecorino Cheese, Taralli Crackers, and a reusable bread basket ($45).
While you may know Tuscan Hen as a BYOB Italian sandwich and pasta spot, their Italian market also offers take-home options like fresh pasta, ravioli, lasagna, pizza dough and sauces. Explore their menu and order online at www.tuscanhenmarket.com.
---
More from the 2020 Ravenswood Holiday Gift Guide
---
You May Also Enjoy: