The Ravenswood Corridor and surrounding area is home to some of Chicago's best and most diverse craft beer options. Dubbed "Malt Row" in 2017, this exciting collection of brewers and distillers has earned Ravenswood a place among the Midwest's premiere craft beer destinations. As a part of the 2020 Ravenswood Holiday Gift Guide, this spotlight on Malt Row makes it easy to support our local independent breweries this winter.
The variety of styles, flavors and techniques showcased by these artisans results on a range of offerings. That means you'll be able to find something for nearly everyone on your list (even your beer-lovin' pooch!). In this post, the team from the Greater Ravenswood Chamber of Commerce shares their Malt Row holiday picks.
Don't forget: If you're on the receiving end of a gift from Malt Row this holiday season, share it with us on social using #MaltRow!
---
Beglye Brewing
The first taproom to open along the historic Ravenswood Industrial Corridor, Begyle has quickly become a neighborhood institution. Launched in 2012 by a group of longtime friends, Begyle offers Chicago's only Community Supported Brewing (CSB) program. Similar to Community Supported Agriculture, members receive a growler or two a month as a part of their membership, allowing the brewery to build an extremely close relationship with neighbors.
Seasonal Flavors
• Christmas Ale – 22oz bottle ($6)
• When Cranberries Fly Sour Ale w/ Cranberries – 16oz 4-pack ($15)
Malt Row Holiday Gift Pick:
★ 2020 Barrel Aged Imperial Pajamas – 22oz Bottle ($18)
This 13% ABV Bourbon Barrel Aged Imperial Oatmeal Stout is sure to keep your loved ones warm this winter. This phenomenal sipping beer comes out once a year on a what's become an unofficial local holiday. This is a gift that screams "Ravenswood."
Website: www.begylebrewing.com
---
Dovetail Brewery
"We brew like monks, minus the vows." Dovetail founders Hagen and Bill met in Germany while earning their Master Brewer certifications from the Siebel Institute. Bonding over their mutual interest in continental European beer styles, the two formed a friendship that has resulted an exciting young brewery dedicated to old world brewing methods.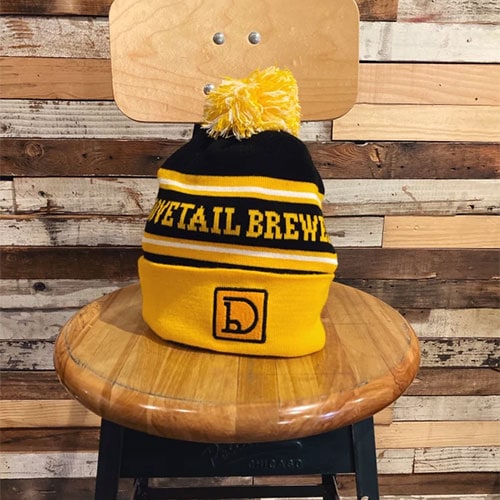 Seasonal Flavors
• Glühkriek 2020 – 375ml ($16)
• Holilday Bock – 16oz 4-pack ($15)
Malt Row Holiday Gift Pick:
★ Dovetail Winter Beanie with Pom ($20)
Stay cute and warm all winter long in this beanie with a pom-pom! Perfect for the German beer fan in your life, or that friend with perpetual bed-head.
Website: www.dovetailbrewery.com
---
Empirical Brewery
Empirical is the largest start-up brewhouse in Chicago's history and home for everything nerdy. They brew a broad variety of styles, including Wild Ales, Lagers, Kettle Sours, B.A. Imperial Stouts, and everything hoppy. No matter your palate, Empirical has the beer for you.
Seasonal Flavors
• Endothermic Baltic Porter – 12oz 6-pack ($12)
• Mangolorian Mango IPA – 12oz 6-pack ($12)
Malt Row Holiday Gift Pick:
★ Empirical Brewery Cooler Bag Combo ($50)
The all-in-one gift for the craft beer fan in your life! An Empirical Brewery Cooler bag (pictured), loaded with 2 six-packs of your choice, 2 Empirical Brewery glasses and an Empirical Brewery patch. Limited availability, taproom only.
Website: www.empiricalbrewery.com
---
Half Acre Beer Co.
Half Acre is known for putting out classic and ambitious, artfully packaged beer, "brewed for the collective odyssey." Perhaps best known for their iconic Daisy Cutter Pale Ale, Half Acre operates two brewery locations on Malt Row, with a retail shop on Lincoln Ave and an outdoor beer garden at Balmoral.
Seasonal Flavors
• Original Reaper Stout – 16oz 4-pack ($11)
• In Place IPA – 16oz 4-pack ($13)
Malt Row Holiday Gift Pick:
★ Daisy Cutter Can Dog Toy ($18)
Know someone who loves beer and has a dog? Of course you do, it's Ravenswood, we're one of the most dog-friendly spots in the city! Surprise them with the gift they didn't know they needed: a Half Acre Daisy Cutter Can dog toy. It even squeaks!
Website: www.halfacrebeer.com
---
Keeping Together
Keeping Together is the latest project from Master Cicerone Averie Swanson, formerly of renowned Austin TX brewery Jester King. Launched in 2019, Keeping Together focuses on mixed culture beers and spontaneous fermentation, or as Averie puts it, "a collaboration between myself and the mixed culture of yeast and bacteria used to make them."
Seasonal Flavors
• At the Still Point of the Turning World Mixed-Culture Saison w/ Buckwheat & Rye – 750ml bottle ($16)
• Everything Glistened and Sparkled Mixed Culture Saison w/ Roasted Rhubarb, Angelica Root & Honey – 750ml bottle ($18)
Malt Row Holiday Gift Pick:
★ Keeping Together Tote Bag ($14)
Keeping Together's 'The Art of Holding Space' tote is stylish, practical, with plenty of room for your local brews. It's a fantastic gift for some of your more artsy friends, beer lovers or not.
Website: www.keepingtogether.com
---
KOVAL Distillery
Located along Malt Row, KOVAL creates a memorable line of whiskey, gin, and specialty spirits using unique locally-sourced grains, signature "heart cut" techniques, and only the absolute best quality distillate. As one of the largest independent and woman-owned craft distilleries in the US, KOVAL is frequently awarded internationally for its bright flavors and eye for design.
Seasonal Flavors
• KOVAL Pink Bourbon – 750ml bottle ($52)
• KOVAL Barrel Aged Maple Syrup – 237ml bottle ($18)
Malt Row Holiday Gift Pick:
★ KOVAL Cranberry Gin Liqueur – 750ml bottle ($30)
Our go-to around the holidays is KOVAL's Cranberry Gin Liqueur, a unique spirit that's delicious alone and sublime in cocktails. A blend of fruity and bittersweet flavors combines with crisp, gin botanicals; making this a perfect pairing for holiday meals. It's also the key to dummy-proof at-home cocktails. Just add a splash of fizzy water and a twist of lime and BOOM– you've got an easy winter spritz.
Website: www.koval-distillery.com
---
LaGrow Organic Beer Co.
LaGrow Organic Beer Co. is the result of three brothers cultivating passions for great beer and a sustainable living into Chicago's first USDA-certified organic brewery. This family-owned, independent brewery was founded in 2016 and shares space in a Malt Row production facility with Smylie Brothers Brewing Co.
Seasonal Flavors
• LaGrow Imperial Stout – 16oz 4-pack ($13)
• Black Cherry Hard Seltzer – 12oz 4-pack ($11)
Malt Row Holiday Gift Pick:
★ LaGrow Organic Hard Seltzer Sampler – 4 x 12oz 4-packs ($40)
Look, not all of us beer nerds have friends who like beer (we still love them though). Support a local brewer and your friend and get them some of LaGrow's Hard Seltzer. The flavors? Delicious! The calorie count? Low! Organic? Absolutely.
Website: www.lagrowbeer.com
---
Smylie Brothers Brewing Co.
Smylie Brothers, an acclaimed Evanston brewpub and smokehouse, recently expanded operations to include a 15-barrel brewery at the north end of Malt Row. Locals should definitely check out their Wolcott IPA, named for the industrial stretch of Bowmanville where the brewery resides.
Seasonal Flavors
• Purple Line wheat beer w/ Hibiscus, Blueberry & Blackberry – 16oz 4-pack ($11)
• Smylie Bock – 16oz 4-pack ($11)
Malt Row Holiday Gift Pick:
★ Smylie Rum Barrel Belgian Strong– 16oz 2-pack ($15)
Smylie Brother's Rum Barrel Belgian Strong Ale is for the experimenter, the type of beer nerd who's looking to try new things and push the limits of beer. This beer is aged in a rare Caroni rum barrel, giving it a round malty profile with notes of oak, spice, rich cane sugar, dark dried fruits, and the complexity of a very well-aged rum. With an ABV of 10.5%, this is a gift worth sharing.
Website: www.smyliebros.com
---
Spiteful Brewing
This award-winning Chicago "nano-brewery" grew from a 400 square foot basement in the Ravenswood Industrial Corridor into a full production brewery and taproom in Bowmanville (next door to Half Acre). Spiteful brews clean, highly crushable beers in styles ranging from American IPAs, Porters, and Stouts to European-inspired lagers and Wheat Beers.
Seasonal Flavors
• God Damn Pigeon Porter – 16oz 4-pack ($11)
• Norm Is A Son of A B***** Traditional Roggenbier – 12oz 6-pack ($12)
Malt Row Holiday Gift Pick:
★ Working For The Weekend Double IPA – 16oz 4-pack ($11)
Spiteful's Working for The Weekend is one of our All-Time Malt Row Beers. And it's a perfect gift for anyone living through 2020. Gazing at the label art, they may wonder, "Who made this unauthorized portrait of me?" After a couple of these 7.9% ABV beers, they might even forget what year it is. Now if only there was a beer that could speed up time…
Website: www.spitefulbrewing.com
---
Urban Brew Labs
Urban Brew Labs is Ravenswood's newest craft brewery, and one of the more prolific in Chicago. They're constantly releasing new beers and at always having something else fermenting away in one of their 6 fermenters. From Kölsch to Double IPA to B.A. Stouts, this family owned and operated brewery focuses on offering an array of beer styles designed to be approachable by all. Good news for 2021: Urban Brew Labs is in the process of opening a taproom at 5121 N Ravenswood Avenue (in KOVAL Distillery's old space). Keep an eye out early next year!
Seasonal Flavors
• Cran You Dig It Cranberry Orange Kettle Sour – 16oz 4-pack ($11)
• ABBA G.O.A.T. Apple Brandy Barrel Aged Dopplebock – 16oz 4-pack ($16)
Malt Row Holiday Gift Pick:
★ Straight Kick to the Scotch Wee Heavy Scotch Ale- 16oz 4-pack ($11)
2020 may have felt like a straight kick to the "scotch," and now there's a beer for that! Help your friends give this year the send-off it deserves with a 4-pack of this "wee heavy" Scotch Ale from Urban Brew Labs. Made with locally-sourced smoked malt, this beer hits you with notes of fig, raisin, and applewood smoke aroma, with a creamy finish.
Website: www.urbanbrewlabs.com
Malt Row Tasting Notes Puzzle
Our plans for 2020 were nuked by COVID (just like yours). With festivals and live events cancelled, we (the Greater Ravenswood Chamber of Commerce) pivoted to finding safe, creative ways to promote our neighborhood small businesses. We've partnered with some of our favorite local artists to create a series of Ravenswood-inspired puzzles– including one for Malt Row!
Like All Together Now, the recent collaboration from local breweries that sold out in 12 hours, the Ravenswood Artist Puzzle Series is a unique partnership inspired by our member businesses. This first round of puzzles offers us a fresh look at our neighborhood through the eyes of its creative community- 500 pieces at a time!
Malt Row Holiday Gift Pick:
★ Malt Row Tasting Notes Puzzle – 19′ x 19′, 500pcs
Chicago craft beer fans stuck at home will love this brewery-inspired puzzle set from Bowmanville-based artist Jessica Licklider. Her first commercially-available work, Malt Row Tasting Notes celebrates the cornucopia of flavors showcased by this remarkable community of brewers and distillers.
These 500pc puzzles are a perfect date night or family activity and look great when completed and displayed. Only 75 of each puzzle were made for this limited run. Proceeds from support the GRCC, a non-profit organization devoted to serving neighborhood small businesses.
Website: business.ravenswoodchicago.org/store
---
More from the 2020 Ravenswood Holiday Gift Guide
You May Also Enjoy: