February 16, 2023
5:30 pm to 7:30 pm
Member: $15
Non-member: $25
GRCC
The Raven Room at Redline VR, 4702 N Ravenswood Ave
For our first Networking event of the year, the Greater Ravenswood Chamber of Commerce invites you to Redline VR for an evening with 40th Ward Alderman Andre Vasquez and 47th Ward Alderman Matt Martin!
Spend a cozy winter Happy Hour enjoying local food and drinks in a friendly atmosphere while connecting with our local business community. We'll gather in "The Raven Room", a new theatrical venue at Redline that features comedy, music, art, and community events. Bring business cards for swapping and drop one in our giveaway bin for a chance to win prizes from GRCC member businesses!
Tickets include admission, food from Fat Chris's Pizza and Such (1706 W Foster Ave), and your first drink from Redline's bar. Limited space is available!
Special Guests
40th Ward Alderman
Andre Vasquez
Chicago born and raised, the son of immigrant parents, Andre Vasquez understands the values of hard work and common purpose that make our city great.
Andre's experience outside the political system includes working his way up to a senior management position at a major utility company. As a husband and father of two, Andre is invested in the fight for better schools, city services, and the right allocation of resources in our city government.
Andre has been leading the call for progressive change with organizing meetings, block parties, and listening sessions. He's heard what neighbors in the 40th Ward have to say: "It's time we stopped dividing our neighborhoods and settling for less from our leaders. It's time we demand the type of transparent and accountable local government we deserve." Learn more at www.40thward.org.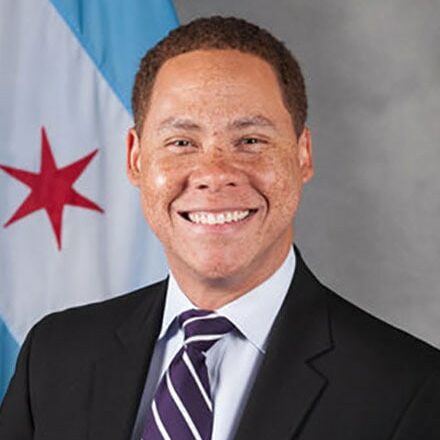 47th Ward Alderman
Matt Martin
Matt Martin is serving his first term as alderman of the 47th Ward. He lives in Lincoln Square with his wife Katelyn, five-year-old son Isaac, and newborn daughter Ameena. Prior to being elected alderman, Matt worked as a civil rights lawyer at the Illinois Attorney General's Office. There, he worked on important issues including police reform, immigration, healthcare, and worker's rights.
Matt earned bachelor's degrees in Jazz Studies and Political Science from Northwestern University, and his JD from Harvard Law School.
As alderman, he believes it is critical to be independent, transparent, and willing to take on challenges like maintaining and expanding affordability, fully funding our schools, and reforming our police department. Learn more at www.aldermanmartin.com.
Presented by: