Mom's deserve handcrafted, locally-sourced, thoughtful and unique gifts. Located on the city's north side, Ravenswood is home to some of Chicago's sweetest treats and trendiest boutiques. Our eclectic community of artisans and small businesses is the perfect place to find something special for mom this Mother's Day.
Whether you're shopping online, shipping a gift out of state, or looking for a real live retail experience, Ravenswood has you covered this Mother's Day.
Shop Small, Shop Mom
Malia Designs Pop-Up at embellish
A favorite annually for Mother's Day shoppers, embellish (4161 N Lincoln Ave) carries handmade jewelry, watches, bags, wallets, scarves, apparel and decorative items from local artists and designers.
Now through Sunday, May 9th shop gifts for mom from Malia Designs, including Fair Trade bags, wallets, and face masks– named "favorite face mask of the pandemic" by embellish's staff. Every Malia Designs purchase over $20 receives a free mask!
Shop the pop-up in-store or online at www.embellishchicago.com.
5/1-2, Chicago Artisan Market at Artifact Events
The Chicago Artisan Market showcases the best of Midwestern food, fashion, home goods, and art. This curated pop-up is coming to Ravenswood for the first time this May, just in time for Mother's Day.
Vendors are small businesses, artisans, and craftspeople. The kind of folks who carry on our rich history as the "city that works." Come out for a weekend-long celebration of ingenuity, style and creativity, where you can shop one-of-a-kind designs, decor, artwork and munchies.
The show runs from 10am to 4pm at Artifact Events (4325 N Ravenswood Ave). Tickets are $8 in advance and $10 at the door. To purchase yours, or for additional details, visit www.chicagoartisanmarket.com.
5/8, Mother's Day Flower Market, presented by the Ravenswood Farmers Market
Enjoy a taste of summer and shop fresh flowers and from Patyk Farms & Greenhouse! A founding member of the Ravenswood Farmers Market, Patyk is kicking off market season with a Mother's Day pop-up at 4900 N Damen Ave.
Located in Ravenswood Covenant Church's parking lot, the market runs from 10am to 1pm and will feature a variety of beautiful, farm-fresh flowers, arrangements, and potted plants. For the latest, follow the Ravenswood Farmers Market and subscribe to our mailing list.
You can learn more about Patyk Farms at www.patykfarms.com.
5/8, "Everyone And Their Mother" Pop-Up Market
Celebrate with all kinds of mothers and shop your favorite North Lincoln Ave businesses! First, swing by Chicago Printmakers Collaborative (4912 N Western Ave) for the opening of DIS, an exhibit highlighting work from artists with disabilities. Next, head to Gateway to Learning's parking lot for an outdoor pop-up featuring Hilary's Cookies, Lincoln Ice Cream, Phaedra's Philtres Aromatherapy, Perkolator, Nomadic Ant, Send Some Chicago, The Friendship Center, and more.
The pop-up opens at 11am and runs through 4pm at 4925 N Lincoln Ave. For the latest, check out the market's Facebook event page.
Sips & Sweets
Amy's Candy Bar: Mother's Day Collection
Amy's Candy Bar (4704 N Damen Ave) is one of Chicago's favorite candy shops. For this year's Mother's Day Collection, Amy has created an incredible selection of candies and confections, including a visually stunning, handcrafted box of chocolates with flavors like Hazelnut Tangerine Aniseed and Rosemary Caramel Dipped Belgian Dark Chocolate. Other treats include a gift set of Belgian Chocolate Oreos, Lemon Meringue Marshmallows, and Lavender Honey Caramels. If you can, splurge a little and double your order at checkout. That way, mom won't be getting a half-eaten box of treats.
Amy's retail shop is open for old fashioned in person shopping, or you can place an order online at www.amyscandybar.com.
Prix Fix Brunch on the Patio and Mother's Day To-Go Menus from Tuscan Hen
Want to treat mom to a memorable Mother's Day brunch in a beautiful, tucked-away outdoor space? Tuscan Hen Market (4019 N Damen Ave) has prepared a special prix fix brunch that includes: a Breakfast Tart with Pancetta & Green Onions, Pasta Salad with Asparagus and Feta, Smoked Ham, Blueberry Lemon Muffins, and more ($22.95 per person). A children's menu is also available.
If you'd rather celebrate with mom at home, Tuscan Hen has you covered! Specials include a Take-Home version of the Mother's Day brunch and a Mother's Day Dinner To-Go featuring: Spring Salad with Fennel & Orange, Salmon with Lemon & Dill, Asparagus, Smashed New Potatoes, and Strawberry Tiramisu. Orders are accepted through Wednesday, May 5th. For details or the place your order, visit www.tuscanhenmarket.com.
Gift Inspiration from KOVAL
Located along Chicago's Malt Row, KOVAL Distillery (4241 N Ravenswood Ave) creates a memorable line of whiskey, gin, and specialty spirits using unique locally-sourced grains, signature "heart cut" techniques, and only the absolute best quality distillate. As one of the largest independent and woman-owned craft distilleries in the US, KOVAL is frequently awarded internationally for its bright flavors and eye for design.
Gift Idea: Stock mom's bar with her favorite locally made, organic spirits! Between Saturday 4/24 and Sunday, 5/9, use code MOTHERSDAY to save 10% on all items in the KOVAL Mother's Day Gift Guide. Shop the guide: bit.ly/KOVALMothersDayGifts.
Care Packages and Sweet Hugs from Lucila's Alfajores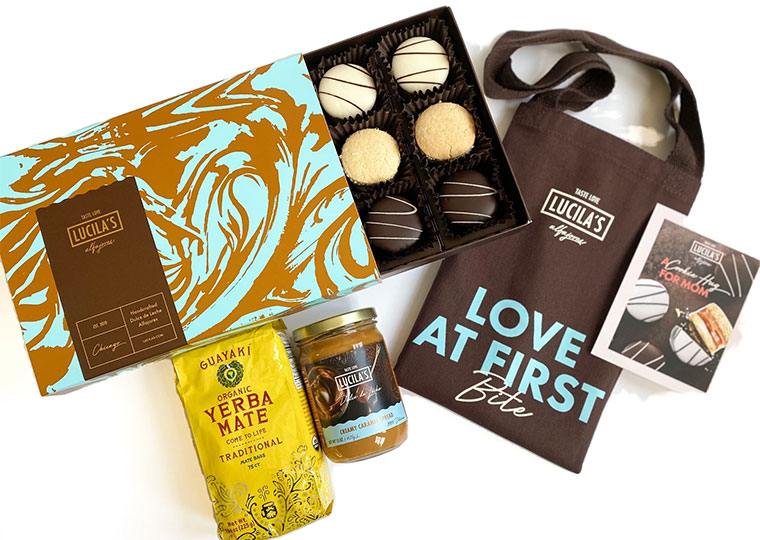 Lucila's is offering two new Mother's Day Gift Bundles loaded with decadent, dulce de leche-filled treats. The sweet "Care Package" includes a 12-pack of mini-alfajores (traditional w/ coconut, dark chocolate, white chocolate), a jar of dulce de leche caramel spread, a bag Guayakí Organic Yerba Mate tea, a Lucila's canvas tote and a Mother's Day card. The "Sweet Hugs" bundle features a mini-alfie 6-pack, a jar of dulce de leche, a card and a tote (making the perfect size to treat yourself too!).
Orders can be placed online for delivery or pickup at Lucila's Ravenswood bakery. Check out their online store at www.lucilas.com.
Vin312 Mother's Day Gift Bundle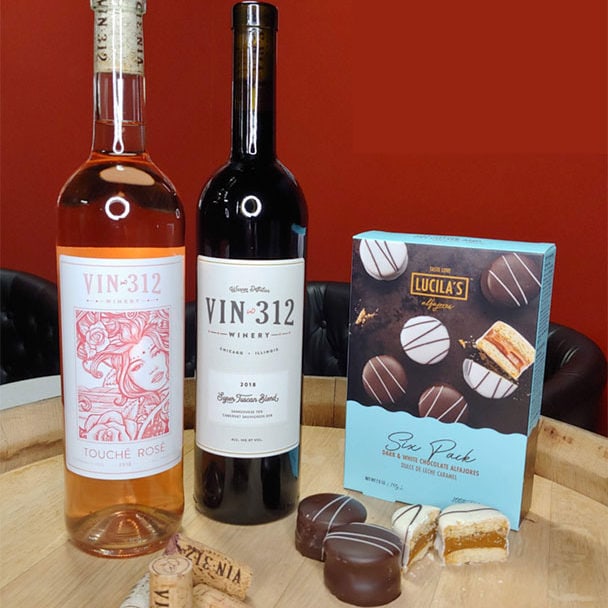 Chocolate and wine is a classic, predictable pairing. Does mom deserve something different? We think so, and so does Vin312 Winery (4710 N Ravenswood Ave, rear). They've partnered with Lucila's Alfajores for a bundle of decadent artisinal sweets and locally made, expertly crafted wine. This unique, limited-time offer includes bottles of Vin312's 2020 Touché Rosé and 2019 Viognier (Yakima Valley, WA), paired with dark and white chocolate covered, dulce de leche stuffed alfajores.
Shop online at www.vin312.com.
---
Other Posts You May Also Enjoy: