Register
December 10, 2020
9:00 am to 10:30 am
Member: $10
Non-member: $10
Greater Ravenswood Chamber of Commerce
Zoom
About Our Presenter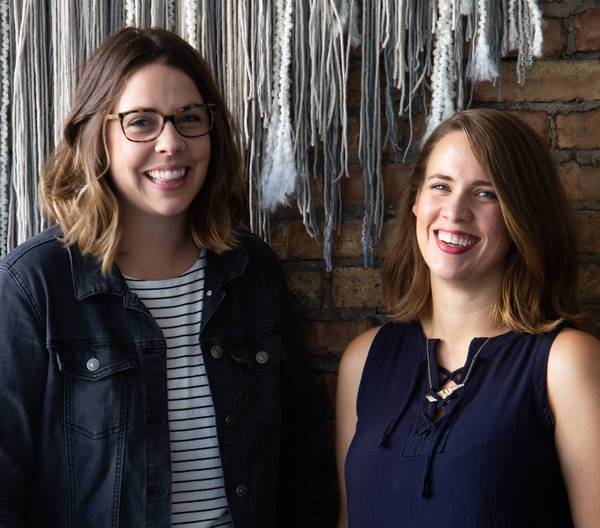 Sunnyside Chats
Sunnyside Chats is a recurring breakfast n' learn series "with a side of get shit done." Organized by two Ravenswood small business owners, the series provides regular learning and growth opportunities to local entrepreneurs. Pre-pandemic, Leigh Hardy (Indigo & Violet Studios) and Andi Mints (Andi Mints Design Studio) hosted monthly workshops that combined chats from experts in their field with time for co-working and collaboration. Since we've all been staying at home, the duo has turned Sunnyside Chats into a bi-monthly virtual series.
PIVOT. We've all heard that word a lot this year. To some degree, most small business owners have had to change things up and take risks to survive—some more than others.
To close out a truly unique year, the Greater Ravenswood Chamber is co-hosting a virtual panel discussion on innovation under pressure with our friends from Sunnyside Chats. Join us on Thurs., 12/10 to hear from three local business owners who've successfully pivoted their business in 2020.
Tickets for this chat are only $10. All ticket sales are donated to My Block My Hood My City, a nonprofit organization that provides underprivileged youth with opportunities beyond their neighborhood.
Grab your ticket today! Sunnyside Chats are intimate gatherings and space will be limited.
Meet Our Panelists:
Jason Burrell
Jason opened beloved tavern and coffee house, the Long Room, along with his business partner and friend Clark Fowler, in 2000. The Long Room thrived as a friendly neighborhood tavern focused on craft beer until 2015 when the business expanded its scope with the addition of a full-service coffee program and an ancillary on-site food concession called Sidecar at LR. Sidecar has been the home of two distinct culinary operators and a long list of guest chef pop-ups. It now serves as the permanent home of the Biscuit Man.
Jason also recently launched Bluebird Inn, an intimate, thoughtfully designed urban hideaway for travelers looking to immerse themselves in a true neighborhood experience. In addition to operating the Long Room, Jason is also an associate at his family business, Burrell Realty, and a stage manager for Goodman Theatre.
Dr. Sonat Birnecker Hart
Prior to opening KOVAL Distillery, one of the largest independent and woman-owned craft distilleries in the US, Dr. Sonat Birnecker Hart spent over a decade as a full professor in both the United States and Germany. In 2008, she gave up tenure in hopes of a different quality of life; one that would afford an opportunity for her to work with her husband, give up commuting, and return to the city she loved: Chicago.

As owner and president of KOVAL, she has spearheaded product development, distribution, and marketing, turning her family business into an international presence with availability in over 55 export markets. In light of the COVID-19 health crisis, she led KOVAL's transition into producing much-needed hand sanitizer for those on the front lines, including medical organizations, first responders, and community non-profits. Sonat is also involved in a number of philanthropic organizations, was recently named Illinois Business Person of the Year by the National Small Business Association, is a federally appointed member of the Illinois Export Council, and has been inducted into the Disciples d'Escoffier.
Seth Boustead
Seth is a composer, broadcaster, writer, concert producer, in-demand speaker and visionary with the goal of revolutionizing how and where classical music is performed and how it is perceived by the general public. As a composer, he has forged a unique and highly personal identity through pieces that are regularly performed and heard on radio broadcasts around the world. Recent projects include an operatic adaptation of the classic Chris Marker film La Jetée, the inspiration for Terry Gilliam's Twelve Monkeys, and an hour-long chamber piece inspired by stories of Italo Calvino.
As the founder and Executive Director of Access Contemporary Music, Seth has created a wide range of unique programs to bring contemporary classical music to new audiences including the Sound of Silent Film Festival, the Thirsty Ears Festival—the country's only classical music street fest, a chain of storefront music schools teaching musical creativity, a concert series in Chicago and New York and more than a dozen annual international commissioning projects in Chicago, Milwaukee, Mexico City and New York.
Seth is also the host and creator of the ASCAP Deems Taylor award-winning podcast Relevant Tones featuring music by and conversations with some of the most creative figures in contemporary classical music. Find more at www.sethboustead.com.