The Small Business Improvement Fund (SBIF) is one of the city's longest-running and most successful programs, helping to retain and expand small businesses in nearly every neighborhood. SBIF grants use Tax Increment Financing (TIF) revenue to reimburse businesses for permanent building repairs and upgrades. These grants can cover up to 90% percent of the cost of remodeling work, with a maximum of $150,000 for commercial properties. Businesses are not required to repay SBIF grants.
About the Clark/Montrose SBIF
Businesses located within the Clark/Montrose TIF District may submit SBIF applications beginning Tuesday, February 1, 2022. The deadline for applications is Wednesday, March 2, 2022. These grants can reimburse costs related to pre-approved repair or rehab of business facilities, or adjacent land acquisition. The Department of Planning + Development (DPD) has contracted SomerCor to administer this program.
Interested? To get started, you should:
About the Clark/Montrose TIF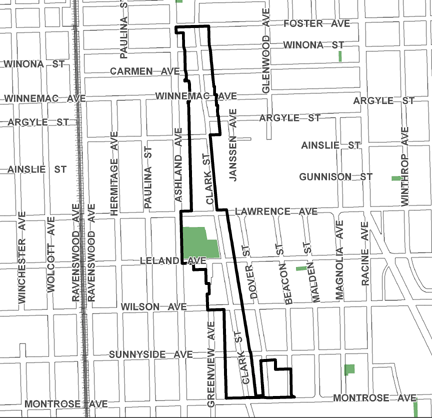 The Clark/Montrose TIF District is characterized by a retail corridor featuring mixed-use properties. This unique section of Clark Street connects Ravenswood, Uptown, and Andersonville. DPD has targeted over half of the 51-acre district for rehabilitation purposes, specifically for commercial, institutional and mixed-use properties along Clark. TIF support also provides incentives for new construction projects that capitalize on the adjacent residential areas, and projects that preserve or rehabilitate historic or architecturally significant structures.
Other Clark/Montrose TIF priorities include job assistance to training and readiness programs, and improvements to public right-of- ways, parks and schools. The TIF has or will utilize a minimum of $7.3 million in public dollars to attract a minimum of $10 million in private investment.
Clark/Montrose SBIF Rollout Webinar
Join representatives from SomerCor and DPD on Wednesday, February 2nd for an informational webinar about the Clark/Montrose Small Business Improvement Fund.
1pm on Zoom, FREE w/ RSVP
SBIF Fast Facts
Grants are available for commercial and industrial businesses and property owners.

SBIF provides grants to commercial businesses of 30%, 60%, or 90% of the costs of permanent building improvements like:

Storefront renovation
Building systems
Interior remodeling
Roof replacement

Industrial businesses w/ 200 or fewer employees are eligible for grants covering 50% of their projects costs.
Since 1999, SBIF has invested over $100 million in Chicago small businesses
---
Other Posts You May Enjoy: