Each month, the Greater Ravenswood Chamber of Commerce highlights a different business from our neighborhood. This month we caught up with Jason Burrell over at The Long Room! Located at 1612 W Irving Park Rd, Long Room is a friendly neighborhood tavern and coffee house known for their thoughtfully curated full-scale coffee program, playful and ever-changing beer list, and well-rounded collection of classic cocktails. Recently Jason launched The Sidecar at LR, a kitchen space that now allows The Biscuit Man to serve up breakfast, brunch, dinner and late-night snacks.
Hey Jason! Can you tell us how long The Long Room has been open in the neighborhood?
We just celebrated our 18th anniversary. We opened our doors in 2000.
What inspired you to start your own business? What were you doing before LR?
This is going to sound silly, but you have to remember that I'm taking you back to the mid-90's. The Internet had not fully developed and no one had smartphones with GPS and Google Maps and all that fancy stuff. I was waiting tables and bartending at Bistro 110 (R.I.P.) downtown with my current business partner, Clark. We decided to write a Chicago guide book because everything we found was pretty basic and dry. We wanted to expose hidden gems in the city and highlight specific places to do specific things. We started off creating a "best" list: best place to day drink; best place to have a first date on a budget; best park to take a grass nap; etc.
As we were doing our research, we discovered that our list consisted primarily of bars. We realized through the process that we weren't really writing a guide book anymore. We were sitting at the Matchbox because we decided they had the best Manhattan in the city at the time. It was at that moment, we realized that we were actually identifying our favorite elements of our favorite bars and compiling a list of details we would apply to building our own dream bar. So, we decided to go for it. Around four years later, we opened the Long Room. Hooray!
How's it been working with The Biscuit Man? How did you and Zeeshan meet?
Zeeshan has been a dream. That's my guy. We were acquaintances for a decade or so. He would come into the bar with mutual friends over the years. We started to get really close when we started to plan this project over here [The Sidecar].
Do you have a favorite cocktail on your menu?
That would have to be the "Poppa Jones," named after my late grandfather. Old Forester was his bourbon. When I was a kid, I would drive over with my mother to drop off a handle for him. So, our "Poppa Jones" is Old Forester, Averna, lemon juice and chamomile syrup.
How about a favorite dish on Biscuit Man's menu?
Oh, man. Well, the fried chicken biscuit is tough to beat. However, I'm also a sucker for the fried chicken or lamb rice bowls. And, there's a new addition that must be mentioned. He's running a weekly special on Wednesdays called the Castle Grinder which is cheddar pork sausage on a pretzel bun with spicy mustard, sauerkraut and his house made chips. Now, I know that doesn't sound like anything you haven't had before, but let me tell you, I don't know what he does to that thing to make it taste so good. You have to trust me on this.
Where's the best seat in the house?
There are a lot of great distinct zones here, from the bar itself, the front window, the side high tops, the booths, the little back room, and of course the beer garden. But, in my opinion, the front corner of the bar near the front door is the best.
Got a favorite local business? Aside from your own, of course.
I know I should be talking Ravenswood business, so please forgive me, but I think everyone needs to take a trip down to Cafe Marie Jeanne in Humboldt. It's just perfect. They are open early morning through dinner time and the food is absolutely delicious, every single time. The chef, Michael, is actually really good friends with Zeeshan. He co-owns the place with his wife Val, and they couldn't be nicer people.
The Long Room always seems to be partnering with with local non-profits on events. What are some of the ways that you give back to the community?
A little over a year ago, we launched Do Good Sunday: Brunch For A Cause. It's a really casual fundraising effort which I think people really appreciate. Each month we pick a different organization to support. And, then on the first Sunday of the month, we donate 25% of bar sales during brunch (11:00-3:00).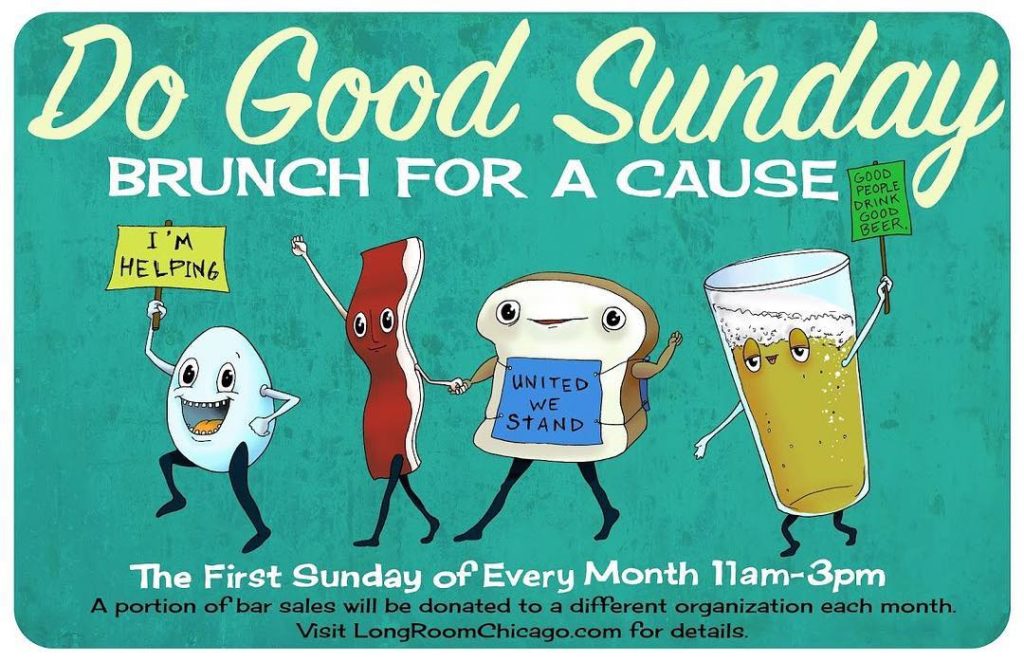 We have picked a handful of national and international organizations, but for the most part, we focus on local groups. So far, we have raised money for ACLU, International Refugee Assistance Project, Planned Parenthood, Project Fierce, Growing Power, Awakenings Foundation, One Tail At a Time, Girls Rock! Chicago, Houston Food Bank, Lyte Collective, North Side Housing And Supportive Services, Cornerstone Community Outreach, Blum Fund, Lurie Children's Hospital's Music Therapy Program and this month we will be supporting Arts of Life.
We also held our first annual evening fundraiser for Thresholds last June to promote mental health awareness and suicide prevention. We donated 50% of bar sales which amounted to just over $2100. This coming June will mark four years since we lost a member of our Long Room family, Mike Regan to suicide. Making this an annual event in his memory is really special for us over here.
---
For more on The Long Room, visit longroomchicago.com and follow their adventures on Instagram, Facebook and Twitter.
The Long Room
1612 W Irving Park Rd
Chicago, IL 60613
(773) 665-4500