March 24, 2022
11:30 am to 1:30 pm
Member: $14
Non-member: $22
Greater Ravenswood Chamber of Commerce
KOVAL Distillery, 4241 N Ravenswood Ave
The Greater Ravenswood Chamber of Commerce invites you to State of Ravenswood, a panel discussion and Q&A with Ravenswood's elected officials. This year, we'll be joined by 40th Ward Alderman Andre Vasquez, 46th Ward Alderman James Cappleman, and 47th Ward Alderman Matt Martin. Our panel will share updates from their offices and discuss issues impacting those working and living in Ravenswood.
GRCC's State of Ravenswood offers business owners, residents, and stakeholders an opportunity to learn about the issues facing our community, and by extension, our city. It's a chance to engage with elected officials, learn about their initiatives, and get answers to your questions. We'll include a mix of pre-submitted questions and live Q&A, with a focus on topics relevant to small businesses.
Ticket sales end at 11 AM on Wednesday, March 23rd. Tickets include two tacos from Rojo Gusano (4217 N Ravenswood Ave), and a non-alcoholic cocktail from our hosts at KOVAL. Coffee, soda, and water will also be available. Nick Yassan, a local resident, business owner, and SSA #31 Commissioner, will moderate our discussion.
★ ★ ★ presented by ★ ★ ★
State of Ravenswood: Meet our Panel
40th Ward Alderman Andre Vasquez
Chicago born and raised, the son of immigrant parents, Andre Vasquez understands the values of hard work and common purpose that make our city great.
Andre's experience outside the political system includes working his way up to a senior management position at a major utility company. A husband and father of two, Andre is invested in the fight for better schools, city services, and the right allocation of resources in our government.
Andre has been leading the call for progressive change with organizing meetings, block parties, and listening sessions. Learn more at www.40thward.org.
46th Ward Alderman James Cappleman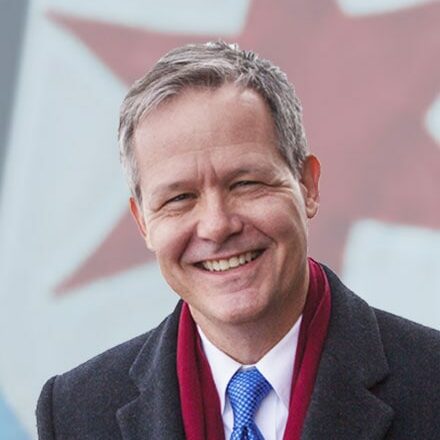 A former teacher, social worker, and health care non-profit leader, Alderman Cappleman has spent his career fighting for social justice. In 1987, he co-founded Chicago's first homeless shelter dedicated to providing care for people living with HIV/AIDS. Formerly a licensed clinical social worker, James served three years as chair of the Illinois' National Association of Social Workers' HIV Task Force.
James has worked hard to create employment opportunities to give every ward resident a chance to succeed. His leadership in securing renovation of the Wilson CTA station dramatically improved public safety and access for those with disabilities, and also provided jobs to local residents. One of James' proudest accomplishments is finding housing for 96 residents who were living under the Lake Shore Drive viaducts. This effort was so successful that it is being used in other communities to obtain housing for homeless neighbors.
James has a Bachelor of Science degree in Education from the University of Houston and a Master of Social Work degree from UIC's Jane Addams School of Social Work. Prior to becoming Alderman, James served two terms as the president of the Uptown Chicago Commission. Learn more at www.james46.org.
47th Ward Alderman Matt Martin
Matt Martin is serving his first term as alderman of the 47th Ward. He lives in Lincoln Square with his wife Katelyn, five-year-old son Isaac, and newborn daughter Ameena. Prior to being elected alderman, Matt worked as a civil rights lawyer at the Illinois Attorney General's Office. There, he worked on important issues including police reform, immigration, healthcare, and worker's rights.
Matt earned bachelor's degrees in Jazz Studies and Political Science from Northwestern University, and his JD from Harvard Law School.
As alderman, he believes it is critical to be independent, transparent, and willing to take on challenges like maintaining and expanding affordability, fully funding our schools, and reforming our police department. Learn more at www.aldermanmartin.com.