Available Year Round
India Pale Ale
Citra Blonde
Imperial Stout
American Pale Ale
Lager
Amenities
To-Go Bottles/Cans
Growler Fills
Patio Open
Food Trucks
Dog Friendly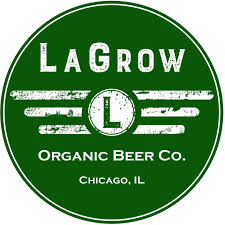 LaGrow Organic Beer Co.
5435 N Wolcott
https://www.lagrowbeer.com/
​LaGrow Organic Beer Co. is the result of three brothers cultivating passions for great beer and a sustainable living into Chicago's first USDA-certified organic brewery. This family-owned, independent brewery was founded in 2016 and shares space in a Malt Row production facility with Smylie Brothers Brewing Co.
The LaGrow brothers take a "seeds-to-suds" approach to producing beer that is big in integrity, quality, and taste. Every can, case, and keg of their beer is made with organic grains and hops sourced from farmers who are committed stewards of the land.
LaGrow offers free delivery across Chicago ($3.50 fee for the 'burbs) and is available at local retailers like River Valley Farmers Table.